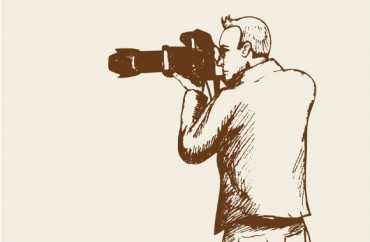 Official student paper's editor: Activists have twisted the meaning of 'safe space'
Student protesters at some colleges are enforcing a novel demand on the media: Take our side or you're not allowed in.
The editor of a new Loyola University Chicago student publication, who participated in a campus protest along with other staffers, took it a step further by keeping the mainstream media from entering a "protest circle."
Without saying so directly, the editor of the Loyola Phoenix, the Jesuit school's official student newspaper, implied that protesters had made trouble for her staff.
When they stopped in a field on their Nov. 12 protest march around campus in solidarity with University of Missouri activists, Loyola student protesters "locked hands," the Chicago Tribune reported. Members of The Black Tribune ("the blacker the paper the sweeter the news") were part of the circle.
"Hey, no media in the circle," Black Tribune Editor Ryan Sorrell said while holding his hand up to a cameraman, telling him "you're good, but not in the circle," the Chicago Tribune reported. After that students cried out "Lock arms!"
The Black Tribune had invited Chicago-area media to cover the march.
EDITOR IN CHIEF of college newspaper keeps media out of protest https://t.co/j4CTpOtHKx pic.twitter.com/AsegzlItg4

— Justin Miller (@justinjm1) November 13, 2015
Must have a history of 'reporting the stories of students of color'
Sorrell told the Student Press Law Center he kept outside media from entering the circle because it was a "safe space" and protesters worried the outsiders would "mis-portray and misinterpret" the protest: His own staff stayed in because "we're representing the student voice." (The Black Tribune featured a short article on the protest.)
Sorrell continued that if a Phoenix staffer had tried to cover the protest, that person would have only been let in if the staffer had a record of "reporting the stories of students of color," the Student Press Law Center said.
The Black Tribune told The College Fix that Sorrell was not taking any media inquiries. The publication says Sorrell founded it "after gaining a vision in his dream where he spoke to Frederick Douglass."
RELATED: Assault and Title IX claims filed against Mizzou administrator, professor for attacking journalists
Though Phoenix Editor-in-Chief Marissa Boulanger wrote a story about the Loyola protest march, it doesn't mention the protest circle.
Boulanger's column the following week hints that her staff were rebuffed from the circle or otherwise asked to endorse the protesters' message.
"The First Amendment gives journalists and activists an equal amount of freedom," she wrote. "My staff members and those from any news organization should have been welcomed. They were at the event so people who weren't could see the kind of student activism that took place on Loyola's campus."
Boulanger wrote that no one can be "a journalist and an activist," because "I cannot cover something fairly while I'm involved in it."
#InSolidarityWithMizzou: Loyola Black Voices Host Historic Demonstration on LUC Campus #TBT https://t.co/KD7r7Qt1YW pic.twitter.com/00A8QQrSNH

— The Black Tribune (@TheBlkTribune) November 13, 2015
She said activists had "twisted" the meaning of "safe space" – which originally referred to exercises in which people can voice their opinions "without any judgement [sic] or expectation of backlash" – in a bid to keep out "big, bad journalists."

In an apparent reference to The Black Tribune, Boulanger said: "You cannot invite the media to a public protest, then kick them out." She did not respond to Fix requests for comment.
Another school approves of students blocking the media
A similar situation arose at Smith College in Massachusetts when student activists – backed by the administration – blocked reporters from covering a "sit-in" Thursday that focused on "students of color and black students" and drew up to 500 students, MassLive reported.
RELATED: Freedom of the press is under attack from universities and students
Activists wanted to "create a safe space free from potential insensitivity from the news media," MassLive said. The school's media relations director told the publication: "It's a student event, and we respect their right to [keep out media], although it poses problems for the traditional media."
Heather practically had me in tears this was so powerful. Blessed to be apart of #TheChange #Luc2Mizzou pic.twitter.com/KcfOgA2GI1

— Anissaaa❤️❤️ (@danielleee03) November 12, 2015
The same day as the Loyola protest, the Chicago Tribune editorial board criticized the anti-media fervor at the University of Missouri and hostility to free expression sprouting on college campuses.

"American universities, traditionally bastions of free speech, have taken a discouraging turn toward policing and even silencing forms of expression that might make students uncomfortable," the editorial said, citing incidents including Yale University's Halloween-costume controversy.

"Freshman orientation should include an all-purpose trigger warning: This curriculum may contain material that some may consider racist, sexist, genderphobic, graphic, tasteless, politically incorrect or otherwise offensive," the editorial said. "You can handle it."

RELATED: Yale rebukes protesters who demanded firing of 'master' and his wife over Halloween comments
Like The College Fix on Facebook / Follow us on Twitter
IMAGE: rudall30/Shutterstock