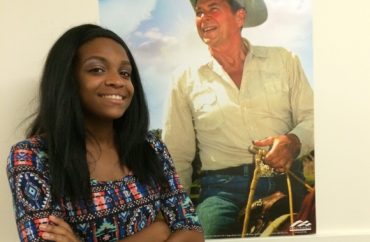 As a young, black woman, life on campus is not always easy for Roger Williams University freshman Kalasia Richer.
But her hardships are not the result of slavery from years past – as her professors and peers like to insist – but instead from the current political persecution she says she faces for being a conservative on a liberal college campus.
"I have been told since day one that I would not succeed without the demeaning benefits of affirmative action," says Richer, 18. "One of my professors actually told me that it's offensive to say that everyone can achieve the American dream."
Statements like these are common among the liberal academia, who teach that "systemic oppression" and "institutionalized racism" are the most significant factors of whether or not one will achieve success in life.
But because Richer doesn't buy into it, she's mocked and ridiculed and blackballed.
"One of my classes is entirely structured around the so-called belief in 'white privilege,'" she told The College Fix, referring to a humanities elective. "Professors shame white students from speaking up against it, and whenever I do they look at me like I'm a traitor."
According to Richer, a political science major, such classes victimize women of color and force other students to justify their current "oppression."
In an attempt to balance the political climate of her campus, Richer took a position as the secretary of a proposed chapter of the conservative Young Americans for Freedom group. But late last month, student government leaders refused to allow the club to officially be recognized on campus, accusing it of being too similar to the College Republicans.
"I was disgusted by the hostility I felt for daring to give a voice to conservatives on campus," she says. "College is advertised as a place for your mind to grow, but I didn't realize how much of a lie it was until I saw firsthand how these 'student leaders' attempt to dictate how students think on campus."
Prior to their vote, student government leaders also emailed Richer to confirm her involvement in the conservative club. No other members of the group's executive board received such an inquiry, prompting Richer to believe she received the query due to the color of her skin.
"They had the audacity to assume I was just a confused little black girl," Richer says. "I'm tired of constantly having to explain myself because my skin color doesn't match what they believe should be my ideology."
Without the conservative group, Richer says she feels like students are trying to force her into liberal groups like the "multicultural club" and "S.A.F.E," but as a vocal conservative and Trump supporter, she doesn't feel like they would get along.
Richer says she attributes much of her strength to the upbringing and guidance provided by her parents. But in an interview with The College Fix, her father, Steven Richer, said his daughter has shown internal strength from a young age.
"We would always watch the news together and talk about politics," he recounted. "I never realized just how much she understood until a local politician came to speak to her middle school class, and she embarrassed him over his corruption scandals."
Today, Richer's outspoken nature to stand up for what's right has distinguished her as a future conservative leader.
"Even when everyone around us tries to put us down for what we believe in, no one can intimidate me from fighting for what I know is right," Richer says. "I am going to break the stereotypes against conservatism in the African American community, and expose the truth of the lies we've been fed."
MORE: I Don't Need Affirmative Action To Succeed – And Neither Do You
Like The College Fix on Facebook / Follow us on Twitter