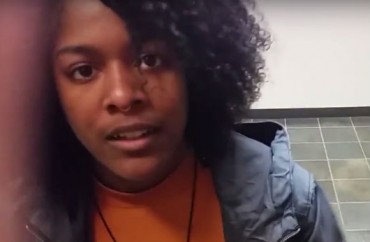 We'd say this is the pot calling the kettle black, but that could be perceived as racist.
The Black Student Union at San Francisco State University is defending Bonita Tindle, the black student who physically attacked the white student Cory Goldstein because he wears dreadlocks, and saying a viral video "misrepresent[s]" their altercation.
Golden Gate Xpress reports that the group met in the quad Friday and read this statement, in part:
We, the Black Student Union do not support the mass publication of videos, articles and any other statements that misrepresent this incident. This misrepresentation has led to racist, homophobic and misogynistic slurs being directed at members of our organization.
It apparently gave no examples of such slurs or who made them.
The BSU's public declaration appears to be based on a statement to "America" that it released Thursday morning, saying the altercation was "not so clear-cut" and claiming that Tindle was "verbally assaulted."
RELATED – PETITION: Black girl who attacked white guy with dreadlocks should be 'removed' from campus
The group casts aspersions on the "white male" who recorded the incident, Austin King, with no evidence that his recording was anything other a spur-of-the-moment response to physical aggression in public. King has said he plans to press charges against Tindle for attacking him when she noticed he was recording.
Unsurprisingly, the BSU seeks to play down Tindle's personal responsibility and highlight "the environment" that leads to "vilifying Black women in America."
It also blames the media, which is rich, given how little more than sketchy, evidence-free accusations of racism immediately get wall-to-wall media coverage.
RELATED: Black student who attacked white student for his dreadlocks is under investigation
Keep in mind that the Black Lives Matter movement, which has empowered black student groups and given them unprecedented influence with cowed administrators and student leaders, is heavily dependent on viral videos. Not just depicting their own marches, sit-ins and protests, but possible police wrongdoing.
Some of which might even "misrepresent" the nuanced situations captured on video.
The BSU implies that someone has published Tindle's home address and cellphone number, and questions why "a disagreement between two individuals [has] become an incident which the black community must answer for?"
RELATED: Black student says Trump backers in her dorm constantly use n-word, has no recorded evidence
Calling Tindle's physical and mirthful aggression toward Goldstein, plain as day on the video, a "disagreement" is quite the understatement, but point taken.
You can stop answering for this "disagreement," SFSU BSU. We never asked you in the first place.
Read the Xpress report and BSU's statement.
RELATED: Two student government presidents, two racial slurs, too few details to justify the sweeping narrative
RELATED: Police officer who arrested black ASU professor to be fired
RELATED: Arizona State Professor Who Claimed Profiling Pleads Guilty To Resisting Arrest
IMAGES: Sfsu Bsu/Facebook, Nicholas Silvera/YouTube
Like The College Fix on Facebook / Follow us on Twitter