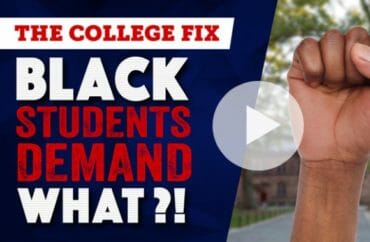 After the infamous "Concerned Student 1950" protest takeover at the University of Missouri in 2014, it's become commonplace to have groups of black students demand concessions, reparations and more from their institutions of higher learning.
At more than 100 campuses since, groups of angry black students have called on administrations to publicly acknowledge that campuses are steeped in "institutionalized racism." The demands have called for more black professors, more "counselors of color," and more top administrators charged with increasing diversity.
Additional demands have included more money for cultural centers or the construction of new ones, mandatory diversity courses, cultural sensitivity trainings for students and employees, financial aid and other support for students in the country illegally, a say in who the universities hire, and a free education for black and indigenous students.
The College Fix's weekly video program, Campus Roundup, delves into this trend.
Like The College Fix on Facebook / Follow us on Twitter