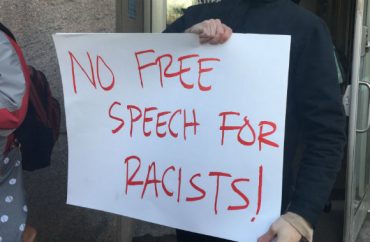 A group of black students at Oklahoma State University has created a list of demands to revise the school's code of conduct rules in order to punish students or faculty who are "racially insensitive."
The group calls themselves "The Four Percent" because black students make up four percent of the student population at Oklahoma State. The group stated on Twitter it hopes to "eventually represent every Black student who makes up the four percent (and hopefully marginalized students outside this percentage as well)."
Their demand letter calls for the establishment of a bias response team to impose some sort of sanctions on any questionable racially insensitive language.
"We submit that the university make an amendment to the student code of conduct's social justice legislation section to add language that will make 'racially insensitive and/or racist rhetoric and behavior made public knowledge' a punishable action," the group's public demand letter states.
In a statement to The College Fix, Burns Hargis, president of Oklahoma State, wrote that the institution is still working on making the campus more inclusive but stopped short of saying campus leaders will enact any of the demands.
"We understand The Four Percent group's concerns and appreciate its input. We also want to create the best university possible. Through our vice president of diversity division and a host of other programs and efforts, OSU has made significant strides in being more diverse and inclusive. We have received numerous national awards for our extensive work. But there is still more to do," Hargis stated.
"We will review the ideas presented by the students as we continue to look for ways to improve. We remain committed to working with all Oklahoma State students to create a culture and environment that are welcoming to all and a model for others," he added.
As for The Four Percent, the group wrote that the current section committed to diversity in the 2017 Oklahoma State Student Code of Conduct should do more to improve race relations.
In their letter, the group expects OSU to "release a detailed outline of all events, budgets/financial plans, programs, initiatives, meeting minutes, meeting dates, etc. (including dates and descriptions) held or planning to be held to improve the current state of diversity on campus to the public."
Okla. State Code of Conduct (2018)

"Attending Okla. State is a privilege…students are expected to meet standards…Standards?…

Cultural insensitivity?"#sincerelythefourpercent x #foursup pic.twitter.com/LxRdGqUP1Q

— The Four Percent (@withlovethefour) January 25, 2018
It also demanded the school create diversity training for all "students (grad and undergrad), teaching assistants, faculty and staff" as well as any student leaders of "Student Government Association, Residence Hall Association, Residential Life, Off-Campus Student Association, International Student Organization, Graduate & Professional Student Government Association, Interfraternity Council, Panhellenic Council, National Pan-Hellenic Council and Multicultural Greek Council."
To further their demands, The Four Percent wants a "minority history and diversity library and lounge" for all students at Oklahoma State. They also requested that more faculty of color be hired, and that they be of diverse backgrounds and again, be diversity training certified.
What's more, the group submits that buildings with names of individuals that do not meet their criteria at OSU be "renamed to a worthier individual."
"We suggest the use of prominent social activists of color that are better indications of the university's commitment to diversity and inclusion," the group states in its letter.
With that, The Four Percent demands that a meeting be held once a month with various campus leaders to "discuss this document and construct plans to enhance the cultural atmosphere at Oklahoma State University."
MORE: Black students demand defunding of College Republicans
Like The College Fix on Facebook / Follow us on Twitter