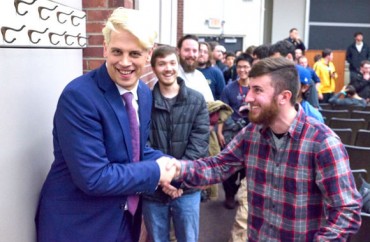 'This event is for sevens and above so the rest of you can leave'
Hours before anti-feminist firebrand Milo Yiannopoulos spoke to a packed auditorium at Rutgers University-New Brunswick, the school's Cultural Center Collaborative emailed student activists to ask them to show "basic respect" to the speaker.
They ignored the advice.
Protesters from Latina, African-American and social-justice groups threw blood-colored paint on themselves and others, vandalized the building where Yiannopoulos spoke and repeatedly interrupted his speech.
Yiannopoulos, the technology editor of Breitbart.com and a gay man, was at Rutgers Tuesday night to kick off the U.S. leg of his worldwide "Dangerous Faggot Tour" of universities. The event was hosted by the Rutgers chapter of Young Americans for Liberty.
The event easily reached its 450-seat capacity, with more students waiting in the cold turned away. The vast majority of attendees were not protesters.
His topic, "How the Progressive Left is Destroying American Education," did not sit well with leftist groups on campus. About 50 students in the audience protested the event, according to The Daily Targum.
Yiannopoulos spoke about his transgressions with third-wave feminism, his critique of the Black Lives Matter movement and his problem with speech restrictions on American college campuses. Many in the audience cheered his speech, while others booed and disrupted him.
The European pundit, a legendary Twitter troll who proclaims himself a "fabulous supervillain," has faced such intimate confrontation before.
As in previous tangles with activists, Yiannopoulos would let the Rutgers protesters carry on for short periods of time by saying "get it out of your system" and then taunting them.
"This event is for sevens and above so the rest of you can leave," Yiannopoulos said in response to disruptions from protesters, implying they were not especially attractive.
After protesters threw red paint on themselves – apparently mimicking blood, though they didn't explain what it meant – they slowly exited the room while chanting "Black Lives Matter" and holding up their fists. Other audience members responded with "Trump" and other chants.
The event was riddled with outbursts from the audience. Protesters included members of the Latin American Womyn Organization, the Douglass Black Student Congress and RU Speak Out.
A remnant of protesters stayed in the room after their comrades made the dramatic exit, continuing to disrupt Yiannopoulos and the question-and-answer portion of the event.
The faux blood-splattered activists continued their protest outside of the building, where RU Speak Out members clashed with Yiannopoulos backers and observers. An RU Speak Out protester called YAL member Andrea Vacchiano a "racist bitch."
Seeking to enforce what is not legally enforceable in New Jersey, some of the activists also demanded consent forms as a prerequisite to be recorded as they protested outdoors on university grounds, which is public property.
Aviv Khavich, one of the YAL organizers, filed a police report claiming the protesters had vandalized the university facility. At least one audience member was hit with paint by protesters.
The Daily Targum stoked interest in Yiannopoulos's speech the day of the event with opposing columns on free speech. One column in the independent student newspaper called out liberal sensitivity, while the other supported the anti-Yiannopoulos protests.
Rutgers is one of the few original stops on his tour to go forward with Yiannopoulos's appearance. Ohio State University, Cornell, Canada's University of Guelph and the U.K.'s  John Hampden Grammar School – the pundit's alma mater – have all canceled Yiannopoulos's speeches.
Some protesters called my YAL member a "racist bitch" and others vandalized the place. @CollegeFix @JessicaChasmar https://t.co/NKGznAfxtY

— Matt Boyer (@MattJBoyer) February 11, 2016
The Tab reported that a scuffle broke out when a white student tried to walk through the group of Rutgers protesters. But not all the students who disagreed with Yiannopoulos supported the protests either.
"All the protesting is hypocrisy because you're not listening to what he has to say. You're asking them to listen to your point of view but you're not listening to theirs," student Blessing Oqunyinka told The Tab.
Rutgers protester Nyuma Waggeh told The Daily Targum she believes Yiannopoulos's speech wasn't protected because it constituted hate speech.
"Freedom of speech is a responsibility," she said. "You should use your privilege to be responsible for one another. Be conscious of what you speak, because a lot of people could take your message wrong."
EDITOR'S NOTE: The author is the New Jersey State Chair and Rutgers Chapter President for Young Americans for Liberty, and introduced Yiannopoulos at the event.
RELATED: Anti-feminist crusader kicks off U.S. tour at Rutgers to bring 'intellectually engaging speech'
Like The College Fix on Facebook / Follow us on Twitter
IMAGES: Matthew Boyer