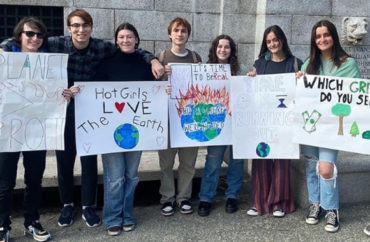 Boston College called them 'inappropriate'
Boston College officials removed Instagram stories that featured student activists who have criticized the university's investments in oil and gas companies.
The Jesuit Catholic college let Maureen Kelly, the president of campus club EcoPledge, do a "takeover" of its Instagram page and gave her minimal guidelines. A "takeover" is when someone who does not normally run an Instagram account posts on it, usually for a specific event or other special occasion.
But Kelly twice tried to feature a club called Climate Justice at BC (pictured) that was at the Earth Day fair, only to find those videos removed.
The Heights reported:
During her "takeover," Kelly received access to post BC Instagram stories spreading awareness about environmental clubs on campus. Kelly said she went around to every club tabling at the Earth Day fair and filmed quick videos of the members explaining what their clubs do. But when Kelly posted a video of Climate Justice at BC (CJBC) explaining its mission and advocating for BC to divest from fossil fuels, it was taken down immediately, she said.
"When the president of CJBC came over to me and let me know that BC had deleted the post very quickly after it was first uploaded—they deleted the video first, and the picture was up for a little bit longer I believe—I was surprised," Kelly told the student newspaper. "I wasn't even that certain that it was BC admin because there were so many issues with posting and uploading things."
"The student organizations agree ahead of time to guidelines laid out by the social media team," Zanna Ollove, Boston College's social media manager, told the student newspaper.
"These guidelines state that non-adherence may result in revoked privileges, particularly for inappropriate posts," Ollove said. "In this case, EcoPledge posted disparaging images, which is why the content was pulled down and the 'takeover' ended."
"Kelly said she received a text from a student member of the BC media team telling her to not talk about divestment or she would have her BC Instagram privileges revoked." the student paper reported.
The Climate Justice group "aims to empower Boston College to take bold climate action, including divestment from fossil fuels," according to its bio on the university's organization website.
It also works to "educate fellow students on the dangers of climate change and how they can be agents for change [and] unite with the local community and national climate movement to strengthen social and political support for climate justice."
MORE: UW-Oshkosh historian 'concerned' about climate change debate
IMAGE: Climate Justice at Boston College/Instagram
Like The College Fix on Facebook / Follow us on Twitter