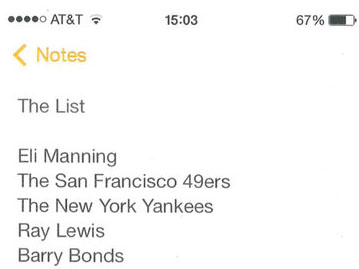 Maybe cops can afford this flaccid approach to law enforcement when they monitor a campus best known for smoking pot around the clock.
The cops on graveyard shift at the University of Oregon in Eugene maintained an extensive – and frequently debated – list of celebrities, professional athletes, politicians, classes of people, institutions, TV shows, municipalities, inanimate objects and much more, numbering 225 in all, that they disliked, as reported by local CBS affiliate KVAL.
The "Bowl of Dicks" list was revealed through a lawsuit by a fired cop who claimed that he was let go "after he complained to supervisors about mistreatment and misconduct."
Before each shift, [James] Cleavenger says Lt. Brandon Lebrecht would conduct a pre-shift briefing with all of the officers on the shift, including Kent Abbott, Michael Drake, Adam Lillengreen, Eric LeRoy and Andrew Bechdolt.

During many of those briefings, Cleavenger says Lebrachet allowed for a discussion of a "Bowl of —– List."

Cleavenger says this was an actual list of people and entities who participating officers disliked and thought should "eat a bowl of" a vulgar term for the male genitalia. …

Cleavenger says on multiple occasions, LeRoy and Lebracht would spend much of their 8-hour shifts discussing the list instead of working, which he says can be verified Computer Aided Dispatch records and UO dispatch audio recordings.
For some reason the cops had a problem with the Oregon statute that "lets public universities establish their own police departments" – ORS 352.385 is on the list, as noted by Gawker, which helpfully provides a scrollable version.
Yes, Officer LeRoy kept the entire list on his personal cellphone.
KVAL continues: "According to the University of Oregon's website, Lebrecht is now a lieutenant in charge of 'Professional Standards and Training.'"
Like The College Fix on Facebook / Follow us on Twitter
IMAGES: KVAL screenshots