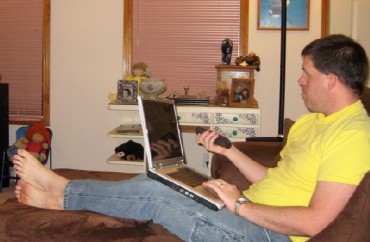 Public university latest to join technology trend that continues to grow
Starting this fall, students can earn a bachelor's degree from the University of Arizona – without leaving their house.
The University of Arizona is set to launch an online undergraduate degree program – joining hundreds of campuses nationwide that already offer the same.
More than 200 colleges and universities offer online bachelor's degrees, according to a ranking by U.S. News and World Report, a trend that shows technology is changing the way in which higher education is facilitated.
In fact, University of Arizona is one of the last in-state universities in Arizona to offer undergraduate degrees online.
Arizona State University began offering both undergraduate and graduate degree programs online in 2010 and is currently ranked eighth in the country for the best online bachelor's program, according to U.S. News and World Report. Northern Arizona University is ranked 131.
Many colleges this summer have announced new online degree programs and other expansions to their online course offerings as well. Online degrees are often seen as more cost effective and flexible, what some consider enticing incentives as the cost of college continues to outpace inflation.
The University of Arizona will charge in-state and out-of-state online students the same, $490 a unit, a significant savings compared to on-campus costs, in which students pay $990 per unit and out-of-state students pay $1,566 per unit.
The University of Arizona will offer 23 fully online bachelor's degrees in areas such as business administration, communication, early childhood education, informatics, intelligence studies, nutritional sciences and psychology.
Students will only have look as far as their computer screen to obtain their diplomas.
"If you're a University of Arizona online student, you are fully online from the time you start to the time you end," Vice Provost of Digital Learning and Student engagement Vincent Del Casino said in an interview with The College Fix. "There's no requirement to be somewhere physically beyond your computer."
Further, those degrees will hold the same weight as one obtained on the brick-and-mortar campus.
"The degrees are identical [to main campus degrees] in terms of all the expectations and coursework and everything like that," Del Casino said. "When you're done, you get a University of Arizona degree."
The admission requirements and application process for the online program is identical to that of the main campus as well.
"It's very simple, if you can get into the University of Arizona main campus, you can get into UA online and vice versa," Del Casino said.
The program is targeted toward non-traditional students, such as part-time students, those who are returning to higher education, and individuals seeking higher education at a later stage of life. However, that does not mean that first-time freshman are discouraged to apply.
Students can expect to see their classes taught through many different kinds of technology, such as pre-recorded video lectures, documentaries, online discussion groups, and various learning exercises through the Internet. Examinations will also be conducted online.
"[The program] works well for people who are trying to figure out how to manage coursework in relation to their everyday life," Del Casino said.
Most of the courses will be asynchronous, meaning that students will be able to pace themselves through their coursework rather than have the classes be conducted live over the Internet, with the exception of foreign language courses.
Along with the development of the major courses for online learning, the university has developed online general education classes to go along with the degree program. The university has hired an online writing team, an expert in online Spanish language learning, and they are currently working on developing an online math program.
Currently, there are no merit scholarships available for fully online students. However, those students are still eligible to use federal aid.
The university's expansion of their online learning program to include undergraduate degrees came as a response to the Arizona Board of Regent's request for all public universities to expand their online programs by 2020, according to Del Casino.
As of now, about 300 students have applied to the program with 80 accepted, according to Del Casino. The university hopes to add 700 to 800 hundred student to the program for the 2016-2017 school year, he added.
Del Casino said those students could expect to be fully integrated into the Wildcat family.
"The kinds of services that we provide to University of Arizona students are going to be provided to University of Arizona online students, meaning that you are a wildcat for life," he said. "Alumni relations is going to be there for you, career services is going to be there for you, [tutoring services] are going to be there for you, so all of the infrastructure that we use at the university, we're going to provide to all of our fully online students as well."
Like The College Fix on Facebook / Follow us on Twitter
IMAGE: Christopher/Flickr