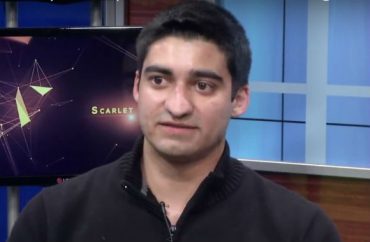 Tarak Andrew Underiner wanted Ohio college students to have the right to carry guns on campus so they could defend themselves in dangerous situations – say, leaving the library late at night and traveling home alone.
Now he's the first homicide of 2017 in Columbus.
The Lantern reports that the Ohio State University campus-carry activist was "found dead from gunshot wounds" at a residence near campus when police responded to a shooting around 12:30 a.m. Thursday.
The police report says investigators don't think the shooting was "random in nature."
Underiner, the treasurer of Buckeyes for Concealed Carry, testified in November before the Legislature in favor of concealed-carry legislation that would automatically cover campuses, rather than the "opt in" bill that later passed (and Ohio State ignored).
It was right after the car-and-knife attack by a Somali student on campus:
"I don't want to say (laws allowing) campus concealed carry would have made things play out any differently (on Monday). It's hard to say that retroactively," Underiner said. "But I would have felt more safe personally, if I had the option to carry."
He had told The Lantern then that campus carry was "not really aimed at stopping mass shooter events":
If you have a late night at the library and … you live in dangerous parts of town, or are out late, being able to have, at least the option to carry a concealed weapon is an important right for Ohio State students.
Read the new story and old one about Buckeyes for Concealed Carry's lobbying.
Like The College Fix on Facebook / Follow us on Twitter
IMAGE: Scarlet Scoop/YouTube