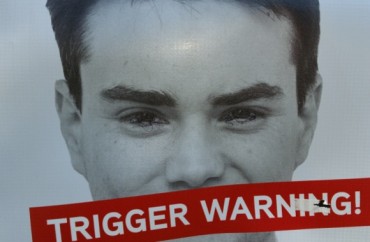 Fresh off the embarrassment of how it handled the appearance of firebrand speaker Milo Yiannopoulos, DePaul University has stepped in it even further by now prohibiting conservative author and pundit Ben Shapiro from speaking on campus.
"Given the experiences and security concerns that some other schools have had with Ben Shapiro speaking on their campuses, DePaul cannot agree to allow him to speak on our campus at this time," Vice President of Facilities Operations Bob Janis said.
In response, Shapiro said "It's both pathetic and predictable that the University is happy to grant a veto on speakers to snowflake leftists so long as the leftists threaten violence. This is how free speech dies: when people in power cave to the bullies rather than standing up for basic rights."
[A]fter DePaul recently banned media-personality Milo Yiannopoulos from returning to campus as part of a College Republicans event, Vice President of Student Affairs Gene Zdziarski explained, "DePaul will continue to work with student organizations to sponsor events and speakers representing a broad range of opinions on the issues of the day."

Apparently, Zdziarski had no intention of keeping that promise.

Put aside Shapiro's considerable accomplishments: appearing on Fox News, CNN, and MSNBC regularly, author of six books, and EIC of The Daily Wire, among other things. Put aside conservatism being a minority viewpoint on college campuses all over the country, including quite clearly at DePaul. Put aside students' potential reactions to what Shapiro might say.

The question here is, what kind of campus is DePaul to be? Is DePaul to be a campus where, as Shapiro puts it, free speech goes to die? Is DePaul to be a campus that submits to the whims of the intolerant Left if just one conservative viewpoint is expressed? Is DePaul to be a campus that enforces an echo-chamber of statist ideals? Is DePaul to be a campus that actually promotes and upholds freedom of speech and expression, or one that just pretends to?
Read the full article, which includes a response from the DePaul chapter of the Young America's Foundation.
MORE: DePaul pres. grovels before students for criticizing their thuggery
MORE: DePaul demands hefty security payment for Yiannopoulos visit
MORE: Cal State-LA tries to dump Shapiro lawsuit
Like The College Fix on Facebook / Follow us on Twitter