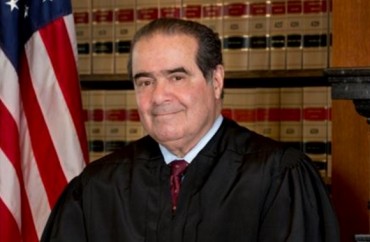 Get your pitchforks ready, D.C.-area social justice warriors: Your most hated judicial giant is coming to a college near you.
George Mason University President Ángel Cabrera told the community in an email today that its law school will be renamed the Antonin Scalia School of Law in honor of the recently deceased justice.
The name change is one result of $30 million in new gifts, "the largest in university history," Cabrera wrote. The new money will also establish a scholarship in Scalia's name as well as scholarships named after economics Nobel Prize winner F.A. Hayek and former Virginia Gov. Linwood Holton.
In a passage sure to rile up haters, Cabrera said in a parallel press release:
When we speak about diversity, that includes diversity of thought and exposing ourselves to a range of ideas and points of view. Justice Scalia was an advocate of vigorous debate and enjoyed thoughtful conversations with those he disagreed with, as shown by his longtime friendship with Justice Ginsburg. That ability to listen and engage with others, despite having contrasting opinions or perspectives, is what higher education is all about.
An anonymous donor pledged $20 million and the Charles Koch Foundation, run by the libertarian industrialist, pledged the other $10 million as a matching gift.
The press release elaborates that the anonymous donor reached out to Leonard Leo of the Federalist Society to inquire about renaming the law school after Scalia.
Cabrera said:
This gift pushes the university's comprehensive Faster Farther campaign past the $400 million mark on its way toward meeting our overall $500 million goal. I am particularly pleased that this gift will directly support students, the most important priority in our campaign.
Opponents still have a chance to sink the Scalia School of Law: The name must be approved by the State Council of Higher Education.
The Board of Visitors also approved the naming of "a prominent public space" on GMU's Fairfax campus after Holton, a champion of school desegregation, and a building on its Science and Technology Campus after the longest-serving state senator, the recently retired Democrat Charles Colgan.
Like The College Fix on Facebook / Follow us on Twitter