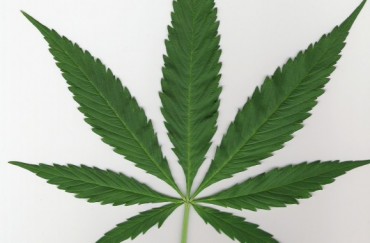 Did you know that trademark law can be abused to suppress the First Amendment rights of students? Iowa State University is learning that the hard way.
A federal judge Friday ordered the school to stop suppressing its student chapter of the National Organization for the Reform of Marijuana Laws by refusing to allow the group to use its name (NORML ISU) on a T-shirt with a marijuana leaf, the Foundation for Individual Rights in Education said.
NORML ISU activists sued the school in 2014 as part of FIRE's Stand Up for Speech project against multiple colleges. The judge had already ruled the plaintiffs could sue President Steven Leath in his personal capacity – a chilling warning to other university presidents thinking of shutting down student speech on the grounds that any use of a school's trademark implied the school's endorsement of that cause.
RELATED: 'Massive Litigation Campaign' Launched Against University Speech Codes
The ruling was more narrow than activists might have liked: Judge James Gritzner did not rule the school's trademark policy "facially unconstitutional because student groups are not punished for submitting t-shirt designs that are later rejected by ISU," FIRE said.
But in approving a permanent injunction against ISU, Gritzner said it was clear the school exercised viewpoint discrimination against the student group:
On several occasions, NORML ISU's designs were rejected due to the messages they expressed, with [Trademark Licensing Director Leesha] Zimmerman saying the designs were sensational, offensive, and contrary to social norms. Moreover, NORML ISU's designs were subject to unique administrative scrutiny by [Senior Vice President for Business Warren] Madden and [SVP for Student Affairs Thomas] Hill, who were interjected as additional gatekeepers to approval of the group's designs. The administrative oversight of the group became all the more intense when Hill became NORML ISU's interim faculty advisor. Taken together, these circumstances show that Defendants took action specifically directed at NORML ISU based on their views and the political reaction to those views so that Defendants could maintain favor with Iowa political figures.
RELATED: Going to pot: Judge says students can sue president for T-shirt censorship
It's also obvious that ISU never previously claimed that its trademarks applied to student clubs' merchandise counted as an endorsement, so it can't qualify for the "government speech" exemption in the Supreme Court's recent Walker license-plate decision, the judge said:
Notably, the record is replete with statements by Defendants that they did not intend to communicate any message to the public by licensing ISU trademarks to student groups. … The Trademark Office's history of design approvals further demonstrates ISU does not license its trademarks to student groups to announce its political views, because the office has approved designs for an inchoate set of interest groups that are in one instance pro-life, then pro-BDSM, then pro-LGBTA, pro-Democrat, and pro-Republican.
Read the decision and FIRE press release.
RELATED: Crackdown on specialty license plates is bad for campus speech, group warns
Like The College Fix on Facebook / Follow us on Twitter