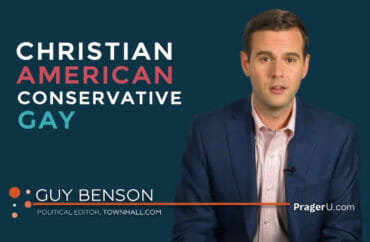 He's a white supremacist?
Guy Benson turned heads recently when he appeared in a PragerU video titled "I'm gay … conservative … so what?"
The Fox News contributor and Townhall.com political editor also noted his Christian faith, arguing that his sexual orientation does not dictate his other beliefs, which include fiscal conservatism and support for small government.
Eighteen Brown University students are terrified of Benson's scheduled appearance tonight at the Ivy League school, saying his lecture violates "section XI of the Code of Student Conduct" and promotes … "white supremacy and fascism."
They wrote an open letter in the campus feminist magazine Bluestockings – known for publishing a hoax rape accusation – that alleges Benson's talk amounts to prohibited "behavior that is intended to or can reasonably be expected to result in significant emotional or psychological harm."
Benson is speaking on the subject "The Millennial Conservative," including issues related to campus free speech, at the invitation of the Brown Republicans and Watson Institute for International and Public Affairs.
He's the co-author of End of Discussion: How the Left's Outrage Industry Shuts Down Debate, Manipulates Voters, and Makes America Less Free (and Fun).
Based on their research into Benson, the Brown students believe the result of his appearance is the "silencing" of people who do not hold "privileged identities," which they define as "white, or cisgender men, or wealthy, or able bodied" (conspicuously leaving out "straight").
The website where the open letter was published is not connecting as of Tuesday night, but it's cached by Google:
We will not stand idly by as our proud history of student activism is belittled and the real emotional, physical, and psychological needs of marginalized students are denigrated as illogical and irrelevant. We, the undersigned, are staunchly opposed to this event. We consider Benson's invitation yet another iteration of a conversation that is misguided, narrow-minded, and explicitly dangerous to the well-being and continued thriving of people of color and other marginalized people at Brown University and the broader community.
The open letter struggles to articulate why a white man defending free speech for all amounts to "hateful rhetoric which actively makes others less safe." It says marginalized people – again, who apparently do not include cisgender gays – "have been intimidated, harrassed and subjected to violence simply for speaking out."
A group of students has apparently determined my talk tonight at Brown University to be "dangerous to the well being" of marginalized groups and 'enabling' of white supremacy. They call the event "unacceptable."

It will go forward as scheduled. https://t.co/csoIsLvWwO

— Guy Benson (@guypbenson) February 13, 2018
The event is "clearly unacceptable" under Brown's own policies and proves again that "Brown has never been a welcoming or supportive place for people of color."
Then the signatories go for the jugular:
There is a wealth of writing on the inextricable connection between Benson's ideologies — fiscal conservatism and free market ideology — and real, tangible, state violence against marginalized communities. Such thinking is fundamentally at odds with any intention to pursue real justice for structurally and historically marginalized people. Arguments like Benson's enable white supremacist and fascist ideas to fester and flourish by defending the speech of already empowered people over and above any concern for justice or histories of violence. …

It is the responsibility of every member of the Brown community to look deeply within themselves and within their surroundings to see and speak against subtle and not-so-subtle traces of white supremacy and fascism that exist or are enabled in our community.
Yep, Guy Benson is a white supremacist and fascist because he opposes big government. Go figure.
The intersectional fatwa against Benson drew bemused responses on Twitter.
Brown students demanding @guypbenson not be allowed to give a talk are admirably clear about their belief Republicans have no right to free speech. None of the usual obfuscation here: https://t.co/bQGMRaDQh4 pic.twitter.com/uliI5hj9Wt

— Jonathan Chait (@jonathanchait) February 13, 2018
All these people jumping in to say @guypbenson isn't dangerous, but, you guys, I've seen him absolutely MURDER a pack of M&Ms.

— Gabriel Malor (@gabrielmalor) February 13, 2018
Guy Benson is like the least dangerous person I've ever met. When my kid was a newborn he was more dangerous than Guy. https://t.co/4XxE0MnSZW

— Liz Mair (@LizMair) February 13, 2018
Read the open letter and watch Benson on PragerU.
MORE: Bluestockings publishes hoax rape accusation
IMAGE: PragerU/YouTube
Like The College Fix on Facebook / Follow us on Twitter