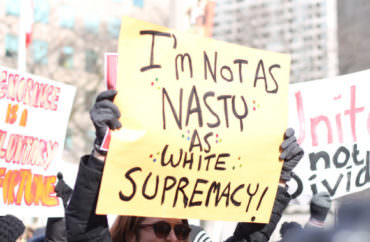 Wednesday evening played host to yet another post-Charlottesville academic confab, this time at Brown University where "contextualized issues" surrounding the tragedy were examined.
Much like how liberal academics lecture us today that a belief in "color blindness" is racist and how racism isn't dying, it's just become more covert (and hence, more insidious), Brown panelist Tricia Rose claimed that white supremacy is not a "marginal" thing, nor a "leftover fringe ideology" which is "limited to the extremist display" witnessed in Charlottesville.
"In fact, most white supremacy is very civil," the Africana Studies professor and director of the Center for the Study of Race and Ethnicity in America said.
Other panelists were on the same page, natch.
The Brown Daily Herald reports History Professor Emily Owens added that the "'march on Charlottesville relies on' a memory based on a fantasy created by American slaveholders of a perfect system of enslavement."
The anti-Semitism at the march, such as swastikas and the slogan "blood and soil," displayed hatred against black and brown people as well as Jewish people, Dean of the College Maud Mandel said. Recently, scholars have been more commonly exploring the similarities of the "racial hierarchical formulation" of anti-Semitism, colonialism and Islamophobia, she said.

In light of President Donald Trump's recent decision to end the Deferred Action for Childhood Arrivals program, Assistant Professor of American Studies Monica Muñoz Martinez addressed the historical marginalization of Mexicans and the need to consider not only how groups are being treated within the United States, but also at its border.

Rose said that Charlottesville was a shock to many Americans despite the realities of systematic and pervasive white supremacy. "It seems to me that we need to focus here on campus in challenging our own curriculum to do a better job teaching us about this" because "education as a whole ultimately marginalizes this kind of conversation."
Come now, Professor Rose. Do not progressives' calls for "more (race) education" really mean "Keep our Centers for the Study of Race and Ethnicity in America" well-funded?
At least that's how people should take such a comment, especially from one who holds seriously that modern white supremacists like those who marched in Charlottesville are not "fringe," who conceives of flaky concepts like "inclusive racism," and who thinks color-blindness perpetuates racism.
MORE: Prof: U.S. Constitution designed for slavery, white supremacy 'forevermore'
MORE: 'Trumpism consolidates power through white supremacy,' UCLA pamphlet states
Like The College Fix on Facebook / Follow us on Twitter
IMAGE: Stacie DaPonte/Flickr