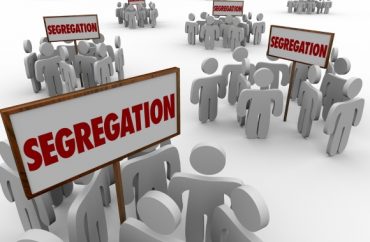 University will host dinners as part of 'racial reconciliation' program
To promote "racial reconciliation" after the deadly clashes between white nationalists and counterprotesters in Charlottesville last month, Brown University plans to offer segregated events to its black students and female Muslim students.
The university received a $30,000 grant from the Association of American Colleges and Universities, which represents liberal arts schools, to create a campus center whose mission is to "break down racial hierarchies and create a positive narrative about race in the community," according to The Brown Daily Herald.
These grants, provided with the assistance of the Newman's Own Foundation and W.K. Kellogg Foundation, will go towards hosting racially and religiously segregated "dinner discussion groups." These discussions are being led by Brown University Chaplain Rev. Janet Cooper Nelson, who told The Daily that "one [group will be] for black students and the other [will be for] for Muslim women on campus."
Nelson told The Daily she hopes that the Muslim women's dinner group will "allow the women to engage in topics such as the intersection of race, Islam and gender fluidity."
Nelson did not respond to The College Fix's request for comment, nor did Brown's media relations department.
The Fix also reached out to the university's Black Student Union for comment on the black student discussion dinner. The group did not respond.
The Association of American Colleges and Universities has charged Brown and nine other universities with "addressing the historic and contemporary effects of racism and leading transformative change," according to a press release from Brown.
The initiative seeks to "educate, prepare and inspire the next generation of leaders to advance justice and build equitable communities."
According to The Daily, the American Association of Colleges and Universities will host the inaugural "Truth, Racial Healing and Transformation Institute" this January in Washington, D.C. Representatives from the ten chosen campuses will attend the institute in order to "develop transformative action plans to advance racial healing," AACU spokeswoman Anne Jenkins told The Fix via email.
Recent years have seen an increased push for segregated spaces and events on campuses across the country.
Last spring, Harvard hosted its first-ever blacks-only student graduation ceremony; a number of other universities hosted similar segregated graduation events. Last winter, students at the University of Michigan demanded a "no-whites-allowed space." A year ago California State University's Los Angeles campus offered segregated housing for black students.
And in May, American University barred white students from a cafe in order to create a "sanctuary" for nonwhite students, a demand the provost of the university called "reasonable."
MORE: UChicago considers student demand for segregated orientation
MORE: Black students demand segregated spaces from white students
IMAGE: Shutterstock
Like The College Fix on Facebook / Follow us on Twitter