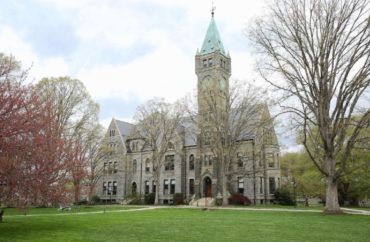 New mandatory 'Power, Inequity and Justice' class part of institutional DEI overhaul
Bryn Mawr College has re-energized its effort to promote diversity, equity and inclusion on campus, rolling out a 59-point action plan for the 2023-24 school year that encompasses every aspect of campus life, from curriculum to policies to financial aid.
Bryn Mawr College, a private all-female institution just outside Philadelphia, states on its website it needs to implement the plan to get a handle on "understanding of the processes by which power, privilege, and oppression are perpetuated at the College," where annual tuition costs $61,190, plus $18,690 for housing and meal plans.
Bryn Mawr officials have ignored repeated requests for comment from The College Fix to ask them about the "privilege and oppression … perpetuated at the College" and their 59-point action plan to address it.
The action plan is broken down into 15 different subsections, which include: deepening DEIA awareness and practice, addressing institutional policies and practices, increasing access and strengthening financial aid, and remembering and reclaiming.
Under the category called course and curricular design and implementation, the college has launched a new mandatory "Power, Inequity, and Justice" class requirement for students. The requirement was approved in May 2022 and implemented on campus this fall.
The course seeks to advance "an understanding of the ways that power dynamics and hierarchies shape the production of knowledge and access to opportunity, as well as engagement with histories and futures of social transformation and justice," the curriculum committee wrote.
Asked to weigh in on the requirement, one higher education watchdog questioned whether the promotion of DEI over other areas of academic study is justifiable.
"Power, inequity, and justice are worthy topics of study, but it is troubling that Bryn Mawr has prioritized making this course a requirement when its students do not need to take basic courses in economics or U.S. history or government," said Steve McGuire with the Campus Freedom division at the American Council of Trustees and Alumni.
"By all means, students should investigate these topics, but they should do so in the context of a well-rounded liberal education that helps students to think about them from a variety of historical, comparative, and philosophical perspectives," he added in an email to The College Fix.
"Looking at Bryn Mawr's approach in its extensive action steps, I'd be concerned that only a narrow range of questions will be asked, and answers given, in the courses that meet this requirement."
Right now The College Fix has a back-to-school campaign to help us continue to support our amazing student journalists. A donation today will be matched thanks to a generous limited-time matching gift opportunity from a friend of The Fix! CLICK HERE for more details — and thank you!
Additional action plans under way at the college, its website states, include a campuswide "policy audit in which each department examines its policies and practices, identifies areas that could negatively impact student success and belonging, and propose appropriate revisions."
The Graduate School of Social Work and Social Research will also use what is being called an "equity lens" to review its practices and policies.
Also on tap, the Dean of the Undergraduate College will "explore the creation of a Social Justice Fellow in Residence program that would bring a social justice advocate to campus to collaborate with administrators, faculty, staff, and students."
The provost will also "assess practices and policies to ensure that faculty equity and inclusion work is valued and supported," including providing financial support for DEI faculty initiatives and lightening the course load among faculty who engage in specific DEI work at the college.
The liberal arts school "sharpened" its focus on DEI in 2015, and student-led strikes in 2020 further inspired initiatives for changes in this area. These strikes, which took place in the wake of George Floyd's death in 2020, were aimed at promoting diversity, equity, and inclusion at an institutional level and lasted for approximately two weeks in November.
According to the "Strike Conclusion Statement," the protests were "a response to the legacy of trauma and anguish and the historic lack of sympathy, true proactivity, and response from the College."
"From the beginning," it reads, "Black students have always pushed the College forward not out of want but out of existential need, continuous deliberation, tedious diligence, and painful patience. We continuously bear not only that burden but the burden of guarding and ensuring our own survival, person, and humanity in college and the broader systems we find ourselves within, outside of academia."
Notably, the statement also emphasized that "Despite the end of this strike, the strike is a state of being, a continuous movement for vigilance, activity, and empowerment to believe in oneself, to believe in each other, and to work towards disrupting these systems that perpetuate violence and inequities and creating anew with possibilities, potentiality, and place."
After the strike, Bryn Mawr developed "a proactive, work-in-progress approach to frame higher-level goals and aspirations and actions to support these goals."
The 2023-24 action plan follows up on additional changes instituted during the 2021-22 academic year, such as transparency on scholarship taxes for international students, a dean and adequate advising for undocumented students, and a "reparations fund" for black and indigenous students.
Many of these goals center around promoting a "more complete and nuanced" understanding of how power, privilege, and oppression are a part of and perpetuated by the college, and the college believes that this in turn will create an environment where all students feel a sense of both thriving and belonging.
These efforts to promote inclusivity may, however, "likely have the opposite effect for heterodox faculty and students," McGuire told The College Fix via email.
"Rather than trying to open their campus to greater viewpoint and intellectual diversity, Bryn Mawr could be creating an even worse ideological silo in which heterodox thinkers and dissenters self-censor if they join the campus community at all," he said.
"it is important to be a welcoming community that does not discriminate against people from different backgrounds," he added. "It is unfortunate, however, to see so little emphasis on viewpoint and intellectual diversity in this plan, since those forms of diversity are critical to the free and open pursuit of truth that is central to a college education."
MORE: Bryn Mawr College caves, officially removes past president's name from library
IMAGE: Bo Ben / Shutterstock
Like The College Fix on Facebook / Follow us on Twitter