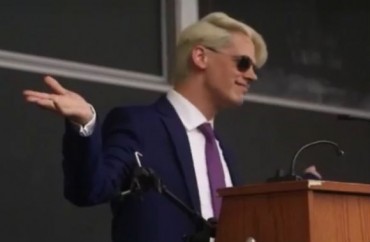 An economics professor at Bucknell says the "racist and fascists" who invite conservative firebrand Milo Yiannopoulos to campus should have a "steep and lasting price" levied on them.
The Tab reports Professor Marcellus Andrews had sent an open letter (which included the provocative statement) to all Bucknell profs back on January 16, but "came to light" last evening when student Tom Ciccotta (also a Breitbart contributor) mentioned it during a talk featuring Christina Hoff Sommers.
Ciccotta was responsible for coordinating Milo's visit to Bucknell.
"The fascist should be allowed to speak —even on Bucknell's dime," Andrews' letter reads," —but the targets of his abuse need to be able to impose a steep and lasting price on the racists and fascists that invited him — since 'free speech' is the demand that government refrain from sanctioning speech, not a general principle that vicious speech is without a social price in general."
But that fragility is also reflected in the demand for an administration to make things better when safety is not something an administration can deliver.

If the outcasts at Bucknell, like the black folks I am born to, remind themselves that though they are not now and can never be truly welcomed by those who insist on their superiority at our expense, or by any elite college or university right now, we can defeat these silly though perhaps dangerous people if we remain enlightened and, well, use Bucknell as a training site to develop and practice intellectual and social (and in my day physical) combat skills that will serve us well in the wider American scene."
Andrews elucidated on the "physical combat skills" used against "fascists" as he recounted some rather unsavory experiences during his graduate student days at Yale.
Certainly, however, those experiences do not quite equate to Mr. Yiannopoulos' appearances.
Not surprisingly, the professor teaches courses in "theories of economic justice, economic policy, income and wealth inequality, and race and economics" according to his Bucknell bio page.
Ciccotta responded by saying "Although I don't believe this professor was instructing students to use violence as a tactic against me or my conservative and libertarian peers, his email could have easily been interpreted in such a way.
"What was perhaps more alarming than Professor Andrews' conduct in his emails to me was the administration's response. In a meeting held with the administration, an administrator refused to call Professor Andrews' conduct inappropriate, choosing instead to say that the administration would have preferred that he had used different language."
MORE: Tennessee legislation to protect free speech on campus named after Milo
MORE: Campus 'social justice conversation' devolves into whinefest over Trump, Milo
Like The College Fix on Facebook / Follow us on Twitter
IMAGE: YouTube