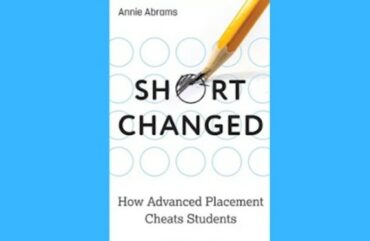 Advanced Placement programs offered by the College Board corporation teach students superficially and fail to prepare them for college, a professor wrote in a book review.
"In 2022, the College Board boasts, roughly 1.2 million students took more than four million A.P. exams in public high schools throughout the country," English Professor Aaron Hanlon wrote this month in a New Republic review of "Shortchanged: How Advanced Placement Cheats Students," by Annie Abrams.
Advanced Placement programs today are "mechanistic, superficial, increasingly delivered through an artificially paced, software-forward program, and with too many constraints on those trying to teach it," Abrams argued, according to Hanlon's paraphrase.
A.P. teachers' lesson plans are often warped by the all-important purpose of preparing students for the test, according to Abrams.
Even more, because A.P. courses strongly influence liberal arts education, teachers cater to it by offering short readings and teaching shallow analysis.
Halon wrote that Abrams' description of A.P. programs reflects his experience as a teacher:
Most of the damage control I have to do in my introductory college courses involves disabusing students of the truisms they learned from a test-driven A.P. curriculum. One is that writing is a "soft" exercise of rhetorical flourish in which factual accuracy, sound reasoning, research and data-gathering, and appropriate treatment of evidence don't matter.

Another is that literature is purely subjective, so literature's facts—whether contextual or within the fictional world of a novel or a play—don't matter; a text is just a prompt for expressing your opinions.

One problem with such impressions is they reinforce for students the false notion that studying literature or history—or forming an argument in writing—is neither real nor applicable analytical work; that it doesn't matter if you read carefully or develop a knowledge base that informs what you're studying and what you get out of it.

A more serious problem is that, emptied of the stakes of being right or wrong, accountable or not, there's no joy in studying something that seems pointless. You write "exactly as they want you to," you tick the box, you move on. It's a waste of everyone's time.
Access to quality higher education in the humanities and other subjects is both critical and very hard to ensure, Hanlon wrote. Abrams' book shows Advanced Placement courses can deter students from achieving that end.
MORE: Scholars say College Board rewrites history
IMAGE: Johns Hopkins University Press
Like The College Fix on Facebook / Follow us on Twitter