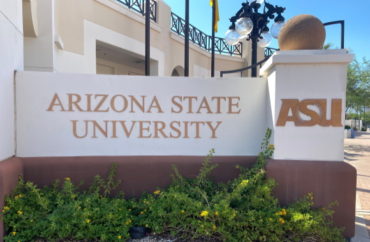 Arizona's three major public universities will no longer ask for diversity, equity and inclusion statements in job applications per a decision by the Arizona Board of Regents, the Arizona Republic reported Tuesday.
The newspaper reported the board is also insisting that DEI statements were never mandatory despite numerous job application postings asking candidates for one.
Sarah Harper, a Board of Regents spokesperson, told the Republic that some posted job openings still may include a "request" for a DEI statement, but "universities are updating those job postings to remove the request for DEI statements."
The decision was quickly lauded by the Goldwater Institute, a conservative think tank in Arizona that is taking partial credit for the development.
"The decision came after the Goldwater Institute exposed that up to 80 percent of faculty job postings at Arizona State University, the University of Arizona, and Northern Arizona University were forcing applicants to provide the statements in order to screen out insufficiently progressive candidates," the organization stated in an Aug. 8 news release.
"This is a huge victory for academic freedom and the First Amendment," Goldwater Institute President Victor Riches stated. "The Goldwater Institute is continuing to show the nation how to defeat the destructive ideologies that are crippling colleges and universities."
Officials with the University of Arizona and Northern Arizona University did not immediately respond to the Republic's request for comment.
ASU spokeswoman Veronica Sanchez told the newspaper she could not immediately say when ASU stopped requiring the diversity statements and added about current online job openings that ask for DEI statements: "It's important to note that sometimes removing certain job postings online takes time."
Goldwater Institute Senior Fellow Jonathan Butcher told National Review on Aug. 9 that "DEI offices have appropriately come under intense scrutiny recently, especially after the U.S. Supreme Court decision in Students for Fair Admission v. Harvard and the University of North Carolina."
"College administrators and state lawmakers should anticipate that the racial preferences of these offices violate the new decision," he said. "In Arizona, school officials appear to be scuttling policies such as loyalty oaths for job applicants, while in places like Texas and Florida, lawmakers are defunding the departments — all of which bodes well for students from all races and ethnicities."
MORE: Window dressing? Some universities appear to cut DEI — but quietly keep it
IMAGE: Melissa MN / Shutterstock
Like The College Fix on Facebook / Follow us on Twitter