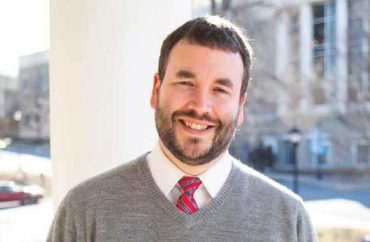 The popularity of subpar "New Adult" fiction can be partially attributed to the failure of literature departments to teach works of quality, a former English professor wrote in a July 8 piece for the James G. Martin Center for Academic Renewal.
The genre of "'New Adult' novels…[ask] little of its readers beyond cursory attention and a seated posture," wrote Graham Hillard (pictured), who taught college creative writing and literature for fifteen years. He is now the managing editor for the Martin Center.
"Its sales, needless to say, are superb," the former Trevecca Nazarene University professor wrote.
Hillard notes the bad prose in several works of "New Adult" fiction, including Kiley Reid's "Such a Fun Age" and Raven Leilani's debut novel "Luster." The latter, which is a New York Times notable book of the year and a finalist for the the PEN/Hemingway award, is "so poorly styled that one wonders if the author intentionally dumbed it down," Hiller wrote. He quoted a sample:
The next morning Eric texts me, three days. not even going to guess what it is? I don't respond because I would like to avoid the awkwardness of upstaging whatever the surprise actually is, and because the tenor of this question, his unsubtle displeasure at my lack of response, is a moment I want to savor.
"Beneath the achingly clunky prose, close-by the unnuanced emoting, lies a gender dynamic that manages to be at once stereotypical and confusing," Hiller wrote.
Those who do read books, read bad books
Hiller cited Pew Research Center data that found that adults with a bachelor's degree or more are far more likely to have reported reading books in the past year.
So the people reading those books, Hillard noted, are "men and women who have completed a formal university education."
These students are not receiving an education in great works, Hillard wrote:
Widely noted in conservative and mainstream outlets has been the recent tendency of English faculty to jettison the canon in favor of a more voguish curriculum…

Indeed, the game is given away by the requirements of so-called Common Read programs, in which universities ask all incoming freshmen (or all students) to peruse a single text. In October 2020, Penguin Random House compiled a spreadsheet of 470 such programs and their selections. Careful examination of the list reveals a mere three titles that could reasonably be described as classics.

By contrast, Ibram X. Kendi's "How To Be an Anti-Racist" and Ta-Nehisi Coates's "Between the World and Me" together take up a startling 40 slots over the two-year period.
"Having been taught nothing better, today's readers have no sense of what they're missing and are instead satisfied with pap," Hillard wrote.
IMAGE: Trevecca Nazarene University
Like The College Fix on Facebook / Follow us on Twitter