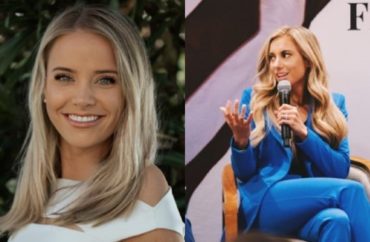 President Joe Biden's opposition to protecting women's sports from males who identify as transgender puts "female athletes at risk," a recent op-ed argued.
"Erasing women's sports is not a cost-free antidote for those struggling with gender dysphoria," Ryann McEnany, Alexandra Campana (pictured, right), and Sam Mims wrote in Fox News. All three played Division I sports and work for the America First Policy Institute. McEnany (pictured, left) is the sister to former White House Press Secretary Kayleigh McEnany.
"Policies that place the 'trans' community ahead of biological females cause harm to millions of girls who strive to have the same opportunity for growth, collegiality and opportunities for scholarship afforded to us just a few years ago," the trio wrote.
"Every single congressional Democrat voted against H.R. 734, the Protection of Women and Girls in Sports Act of 2023, and President Joe Biden promised to veto any legislation that would restrict women's sports to biologically female athletes," they wrote. They accused Democratic politicians of ignoring the will of American citizens.
The op-ed highlighted the importance of collegiate sports to the three authors.
"For us, sports are so much more than just a competition, a scholarship, or getting accepted into the college of our dreams," they wrote. "Sports and our sports teams are what helped to instill the values we hold today. Being able to participate in women's sports gave us the integrity, grit, determination, compassion and drive we have carried into our adult lives."
The op-ed covered different ways Title IX law had been used to push gender identity into schools, all the way down to the elementary level. "The proposed rule will open female sports to transgender athletes at schools that receive federal funds and invalidate state laws passed by at least 20 elected legislatures to protect women's sports if finalized in its current form," they wrote.
The trio wrote:
What seems to be forgotten in this proposed rule is all the harm that will be done to the millions of female students when they are forced to compete against men and share intimate spaces with them. Being a competitive athlete takes as much mental strength as physical ability. Sharing a bathroom, changing room and/or hotel room with a biological male ahead of a competition will potentially cause severe emotional, mental and even physical harm to female athletes.
"Protecting women's sports is not anti-transgender," the essay concluded. "It is pro-women. Together, as Americans, we will prevail in this righteous battle for women."
MORE: 'He is an arrogant cheat': ESPN condemned for honoring Lia Thomas
IMAGES: Ryan McEnany/Twitter; Alexandra Campana/Twitter
Like The College Fix on Facebook / Follow us on Twitter