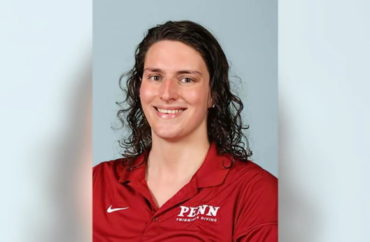 An assistant swimming coach at Franciscan University of Steubenville wants to see other Catholic colleges step up to defend female sports.
"Allowing men to compete against women is unjust and wrong, for the biological disparities between men and women give men a significant, natural advantage over women," Mary Kate Waldow wrote at Crisis, a Catholic commentary website. "Catholic colleges must defend the right of women to compete in sports exclusively against other women."
She said athletes and teams should be prepared to boycott competition and forfeit matches instead of participating in someone's gender delusion. "Benefactors to universities must withdraw their donations should a university do what UPenn has done," Waldo said. "Alumni should write letters of petition to show their outrage and disappointment if their institution thinks athletes can pick their sex."
Waldow discussed the controversy over Lia Thomas (pictured), who competed against male swimmers until taking testosterone suppressants and now dominates in female competition. Waldow disagrees with activists and the NCAA who believe that someone's sex can change.
The Catholic university swimming coach wrote:
No surgery or hormone therapy can change our biological sex, for sex is specified by the chromosomes at the moment of conception. Putting aside the ultra-rare cases of DSDs (disorders of sexual development), when a person possesses XY chromosomes, they will develop a male reproductive system. And when they possess XX chromosomes, they will develop a female reproductive system. These differing, complementary reproductive systems constitute the essential difference between men and women.
"No matter how much 'transitioning' or 'hormone therapy' takes place in a male, male XY chromosomes will still remain, and thus these significant secondary differences will still be in play," Waldow said. "Unless governing bodies and institutions acknowledge the fundamental, biological differences between males and females, women will not have an equal opportunity in sports."
The Steubenville wrote that sympathy must be shown for what people like Lia Thomas are enduring and urged prayer.
"We must begin with prayer: prayer for the athletes confused about their biological sex, prayer for coaches and administrators to have the courage to defend the truth, and prayer for the athletes to resist competing against the wrong sex," the coach said.
IMAGE: University of Pennsylvania
Like The College Fix on Facebook / Follow us on Twitter