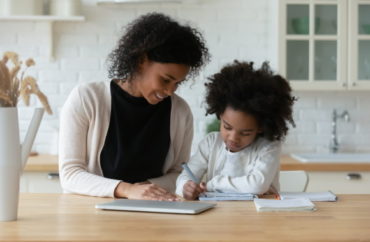 Bethany Blankley | The Center Square
Notably, among Black households, the proportion of home-schooling increased slightly more than five-fold
Faced with ongoing state lockdowns and changing school restrictions last year, frustrated parents increasingly pulled their children out of public schools nationwide and found other educational options for their children, one of which was home-schooling.
According to a new U.S. Census Bureau Household Pulse Survey, a substantial increase in the number of parents who chose to home-school occurred in 2020 compared to 2019. The survey is the first data source to offer both a national and state-level look at the impact of COVID-19 on homeschooling rates, the report states.
Using a large, nationally representative sample of U.S. households, the survey found that home-schooling was notably higher than national benchmarks. It was conducted in phases to assess parental choices over different periods of the school year.
Census Bureau researchers compared survey results from the spring of the 2019-20 school year to the fall 2020-21 school year to measure the impact of widespread state shutdowns. It also differentiated between households that genuinely home-school and those that participated in virtual learning programs at home through a public or private school.
In the first week of Phase 1 of the Household Pulse Survey (April 23-May 5), roughly 5.4 percent of U.S. households with school-aged children reported that they home-schooled. By the fall, however, that number jumped to 11.1 percent (Sept. 30-Oct.12).
"It's clear that in an unprecedented environment, families are seeking solutions that will reliably meet their health and safety needs, their childcare needs and the learning and socio-emotional needs of their children," the authors of the report write.
Those who increased home-schooling spanned across all demographics. Notably, among Black households, the proportion of home-schooling increased slightly more than five-fold, from 3.3 percent to 16.1 percent within a three- to five-month time span.
Some states also saw much larger increases in home-schooling rates for the 2020-2021 school year than others. In Massachusetts, for example, those home-schooling increased from 1.5 percent to 12.1 percent. In the Boston-Cambridge-Newton metropolitan area, those who home-schooled went from 0.9 percent in the spring of 2020 to 8.9 percent by the fall.
In Texas, parents withdrew their children from public school systems at historic levels statewide, according to state data and reports published by the Texas Home School Coalition. Some areas saw parents withdrawing students at an increase of 2,590 percent.
Many students were withdrawn after reports of failing grades more than doubled after the first six weeks of school when only online virtual learning was offered.
"The Household Pulse Survey is designed to provide near-real-time information about the social and economic impact of the COVID-19 on American households," the report states. "Education is one of many topics covered by the survey and the data are not designed to provide a highly detailed look at the many different types of educational arrangements and innovations pursued by households in this unusual school year."
Historically, national home-schooling rates grew rapidly from 1999 to 2012, but then remained steady at around 3.3 percent.
Originally published March 27, 2021, by The Center Square
IMAGE: Fizkes / Shutterstock
Like The College Fix on Facebook / Follow us on Twitter