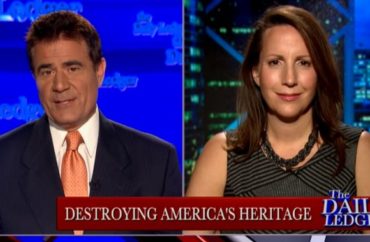 Jennifer Kabbany, editor of The College Fix, was a recent guest on One America News Network's Daily Ledger program to discuss the decision to cover up a large mural of George Washington at the aptly named George Washington High School in San Francisco.
The "Life of Washington" mural, which consists of 13 panels and has stood the test of time since 1936, is slated to be painted over.
School district officials have agreed with a working group's determination that the mural "traumatizes students and community members."
The reason? One of the images involves Washington near a deceased Native American. Another depicts Washington next to several slaves performing various types of manual labor.
For that, it's being erased from existence.
"This is coming straight out of George Orwell," Kabbany told host Graham Ledger. "They are
erasing history."
Watch the segment:
Like The College Fix on Facebook / Follow us on Twitter