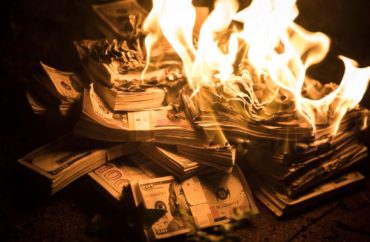 The rising cost of college is not worth the benefit, according to the results of a poll recently released by the University of Chicago polling center and the Wall Street Journal.
This represents a "a new low in confidence in what has long been a hallmark of the American dream," the Wall Street Journal reported.
The paper reported:
The survey, conducted with NORC at the University of Chicago, a nonpartisan research organization, found that 56% of Americans think earning a four-year degree is a bad bet compared with 42% who retain faith in the credential.

Skepticism is strongest among people ages 18-34, and people with college degrees are among those whose opinions have soured the most, portending a profound shift for higher education in the years ahead.
Just ten years ago, 40 percent of respondents said college was "[n]ot worth the cost because people often graduate without specific job skills and with a large amount of debt to pay off" while now a majority say so. The 2023 poll found that 42 percent now say college is "[w]orth the cost because people have a better chance to get a good job and earn more income over their lifetime."
Higher education insiders differed in what the causes could be for the feelings of discontent toward universities.
"We need to do a better job at storytelling, but we need to improve our practice, that seems to me to be the only recipe I know of regaining public confidence," Ted Mitchell of the American Council on Education told the Wall Street Journal.
Bryan Caplan, an education commentator and economist at George Mason University, said COVID shutdowns and professor politics were to blame.
"Colleges have squandered a lot of good will by pushing a dogmatic left-wing religion," Professor Caplan told the newspaper. "Normal people don't have sympathy for that sort of thing, they find it very off- putting."
Caplan also told the Journal that charging full tuition for online classes hurt higher education's reputation and that it harmed "personal connections with professors" that "tended to smooth over any problems that might arise from the left-wing bias among faculty," according to the newspaper's paraphrase of his comments.
The paper also profiled graduates who questioned the value of their degree and were unsure if they would advise their children to attend college.
MORE: DeSantis roundtable sounds alarm on DEI, CRT in higher ed
IMAGE: Nmorguelan/Shutterstock.com
Like The College Fix on Facebook / Follow us on Twitter