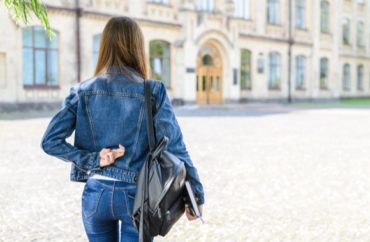 The Wall Street Journal's Future View editorial section, which features the voices of college students from across the country, recently took on the topic of cancel culture.
Joseph Silverstein, a student at Cornell University and a College Fix campus journalist, was among those published on the topic. He warned that the "freedoms we do not defend today will be the freedoms we do not have tomorrow."
In his letter, he also pointed out that what started on campus has bled into the mainstream culture:
A disturbing trend once limited to universities has taken hold of mainstream society. J.K. Rowling was canceled for voicing concerns about transgenderism and women's rights. Joe Rogan was canceled for saying that biological men should not compete with biological women in mixed martial arts. And Bret Weinstein was canceled because he refused to join a "Day of Absence" for white people at Evergreen State College. He was subsequently told by campus police that they could not protect him from the deranged protesters.

Even our Founding Fathers, George Washington and Thomas Jefferson, whose statues have been defaced and removed, are not safe from cancel culture.
The Wall Street Journal section comes at a time when cancel culture continues to be a pressing issue on campus and in the culture.
The College Fix recently published a Campus Cancel Culture Database chronicling over 1,400 successful and attempted cancelations at colleges and universities across the nation in recent years.
Other students published by The Wall Street Journal agree it's a problem.
"Who is worthy of charity, and who of scorn, seems dependent on the subject's position in the hierarchy of friends and enemies that the woke regime presupposes. The woke regime has the power to do as it pleases," argued Alex Mirage, a Georgetown University student.
Alexander Schimka, a Loyola University Chicago student, pointed out that while stars can survive a cancelation, average students cannot — forcing them to submit to the tyranny of the "political left."
"We know that if we disagree with the American left on an issue it deems out of bounds today or, retroactively, tomorrow, our financial and social lives could be ruined," Schimka wrote. "More and more people submit to the political left so they can keep going about their lives without being targeted merely for having a different opinion."
Wheaton College student Bayli Mohr echoed those sentiments.
"That leaves us in hiding, with the fear that one day someone will scroll through our five-year-old Twitter posts to find a reason to attack us," Mohr wrote.
"It's so easy to cancel someone else. To shame their mistakes and call them unworthy of forgiveness. Yet if it were the other way around, surely we would beg for mercy. We love to pat ourselves on the back for being socially aware and good citizens, but we forget that we, too, have stumbled and will continue to stumble."
Read The Wall Street Journal's Future View editorial section here.
ALERT: Check out our new Campus Cancel Culture Database!
IMAGE: Inspiration / Shutterstock
Like The College Fix on Facebook / Follow us on Twitter