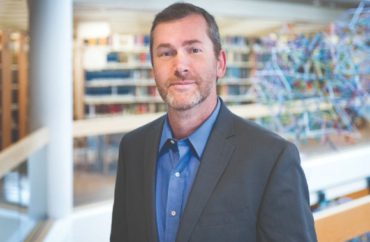 Corporations and universities do not need to make political statements on every issue – and doing so alienates people, according to an Indiana University law professor.
Professor Timothy Waters wrote recently in The Washington Post that institutions should be careful about engaging in political issues that do not directly affect their business. Waters, who attended gaming convention Gen Con with his son, criticized the leadership of the group for speaking out in opposition to the state's new pro-life law.
Waters (pictured) wrote that this is "part of a trend."
"Companies increasingly face pressure to take positions on political issues unrelated to their business. Progressives long suspicious of corporate politicking now insist on it," he wrote in the Sunday op-ed.
His own employer in 2013 made a statement in opposition to the Hoosier State's plan to codify that marriage is between one man and one woman.
"Indiana University opposed a state constitutional amendment barring same-sex marriage on grounds that went far beyond institutional concern," he wrote. "(Selectively: I've never seen a university object to laws antithetical to conservative faculty or students.)"
He said citizens "lose" when companies enter the political fray.
He wrote:
For organizations facing Twitter-empowered consumers and employees, it can be good business to align with their politics. For activists, pressuring companies helps their side prevail. Except it doesn't, really. We all lose, because turning markets into a political battleground harms our shared moral economy and damages the apolitical spaces that help preserve a decent, tolerant society.
"Shared spaces of civil society relax the boundaries of entrenched identity, allowing humans to escape tribal, religious or political isolation," he wrote. "That's true in markets open to everyone, or universities teaching diverse ideas, or places where people can play and learn that victory is not absolute and coexistence is possible in defeat."
IMAGE: American Association of Colleges and Universities
Like The College Fix on Facebook / Follow us on Twitter