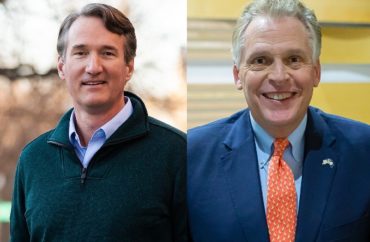 Tyler Arnold | The Center Square
Education has become a major focus in Virginia's 2021 gubernatorial election and critical race theory, along with its potential impact on public schools, has become a serious point of contention.
Republican candidate Glenn Youngkin has vowed to ban critical race theory in the education system, but his opponent, Democratic candidate Terry McAuliffe, has labeled the crusade a racist dog whistle, claimed that schools do not and will not teach it and suggested it is a conspiracy theory.
"Friends, today a political ideology has made its way into our classrooms," Youngkin said at a rally with supporters this week. "It forces all the kids to view everything through a lense of race, it divides us into buckets and then it pits our kids against one another. Our kids aren't brought up that way; they're brought up to love everyone … On day one, I will ban critical race theory."
During his own rally this week, McAuliffe said he is "sick" of the Youngkin campaign talking about critical race theory.
"We do not teach critical race theory here in Virginia," McAuliffe said. "It has never been taught. It is a racist dog whistle. It is pitting parents against parents, parents against teachers and they're using our children as political pawns and it has got to stop."
Critical race theory is an academic school of thought that focuses on how politics, laws and social norms affect race. Generally, advocates argue the white majority uses laws and other types of societal and institutional power to hold nonwhite people back, sometimes consciously and sometimes subconsciously. Opponents of the movement often allege that critical race theorists rely too heavily on storytelling, rather than verifiable evidence. Opponents also claim the theorists tend to assume racism is at the root of every problem in which there are disproportionate outcomes without first proving it and then draw their conclusions from there.
Although McAuliffe has said there is no critical race theory in the state's education system, the Virginia Department of Education's Office of Equity and Community Engagement lists several books that have been used to develop their work, including "Foundations of Critical Race Theory in Education" by Edward Taylor and David Gillborn and Gloria Ladson-Billings. In some districts, parent groups have criticized what they view as critical race theory in education and have even sought to recall board members.
Loudoun County Public Schools spent $3,750 last year on Equity Leadership Coaching focused on critical race theory development, according to an invoice unearthed by the county-based parent group Fight For Schools. In February, about 50 Virginia Beach teachers participated in a training that encouraged all people to admit they are racist. Fairfax County contracted with the New York City Leadership Academy to create an anti-bias community engagement policy that asked parents whether the school should teach students how to challenge power and privilege in society.
According to a recent Cygnal poll of more than 800 likely voters who are parents with children in kindergarten through 12th grade support Youngkin over McAuliffe. The poll showed 56% support for Youngkin and only 39% support for McAuliffe. Recent polls have shown Youngkin and McAuliffe in a virtual tie among all Virginia voters.
Originally published on October 28, 2021 at The Center Square.
IMAGE: Glenn Youngkin and Terry McAuliffe/WikiMedia Commons
Like The College Fix on Facebook / Follow us on Twitter