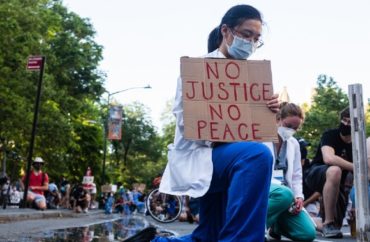 The University of Michigan's medical school has embraced critical race theory as part of its curriculum, according to a report in the City Journal.
It's a problem not only in Ann Arbor, but in medical schools elsewhere, John Sailer explained.
He said:
At the University of Michigan, critical race theory has invaded yet another discipline: medicine. In January 2021, Michigan Medicine's Anti-Racism Oversight Committee Action Plan called for designing a new curriculum, one that would use an "intersectional framework" and incorporate "critical race theory."

The story is a microcosm of a nationwide trend that has not spared medicine. In the summer of 2020, senior administrators at Michigan Medicine, like many of their colleagues around the country, called for large-scale change. On June 1, five deans and vice presidents published a letter decrying health disparities, declaring: "We must reject and prevent this manifest . . . injustice." A few days later, the executive vice president for medical affairs expressed the same urgency in a letter titled "The Time is Now."
Sailer detailed how the university "was happy to oblige" with demands from a student coalition. The prestigious medical school shifted energy not to studying cardiology or physiology, but Ibram Kendi.
He wrote:
The Action Plan lays out how it will achieve that objective. One of the plan's "deliverables" calls for hiring outside experts: "Recruitment of critical race theory, health justice education, and intersectionality expert(s) to develop scholarship/update med school curriculum, residency/educator training." Another calls for expanded faculty training "on how to teach intersectionality, health justice, and critical race theory from materials developed by recruited experts." The plan even vows to "provide anti-racism, critical race theory, health justice, and intersectionality resident education for residents as applied to medical care and include curriculum based on Ibram Kendi's Stamped from the Beginning book." Kendi famously argues that any disparity between groups is, by default, a symptom of racism—a disputed brand of "antiracism," to say the least.
Politicizing medical education is the goal, Sailer said.
"Inserting such work into the curriculum is unlikely to improve education at Michigan Medicine, but it's guaranteed to politicize it—and that's no surprise, given that the Action Plan explicitly advocates injecting politics into the practice of medicine," he said.
IMAGE: Jennifer Mason/Shutterstock.com
Like The College Fix on Facebook / Follow us on Twitter