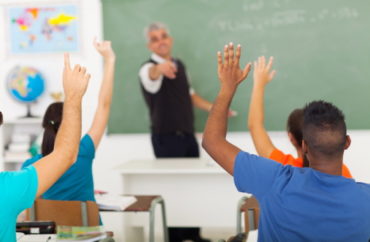 A high school teacher wants his peers to remain neutral while teaching on political topics and has some ideas on how they can do so.
Jared Lucas recently wrote an essay in Chalkboard Review that criticizes the idea that teachers should not remain neutral while teaching about politics. Lucas teaches American government classes at a public high school in Ohio.
"Many teachers today actively crusade against neutrality in the classroom," Lucas said. He pointed to an article from the National Education Association, a teachers union, that quoted a teacher saying she did not know how to teach about Trump in a fair manner.
Lucas explained in his essay how he maintains balance. He cites as evidence a poll he conducts annually with his students about his own political beliefs. "Last year, it was about dead even between Republican, Democrat, and Independent while the rest thought I was any of the other various ideologies," Lucas said.
Lucas said:
At root, each side struggles to see how the other could possibly accept the premises they do. When the teacher treats their personal political opinions as fact, students rationalize that it will be far easier to accept it and go with the flow than go against the stream. This fails to build a student's intellectual muscles and conditions lazy thinking. The consequences of this are not hard to see. An intellectually lazy population that fails to critically think and question is beholden to lies and manipulation.
The government teacher said he will challenge students to think about how someone would respond to their arguments. He also will incorporate the majority and dissenting opinions when discussing Supreme Court cases.
Lucas said:
There are many ways to achieve neutrality effectively. For example, after lecturing on a controversial topic and having an open discussion over both sides of the debate, I typically assign students a Google Slide. The first slide has respectable resources from both sides of the debate. As a government teacher, I often use majority opinions and dissenting opinions from Supreme Court decisions over controversial issues. They are replete with excellent quotes and arguments you can use as starting points for each side.
Teachers should also be careful not to give feedback to students in a way that minimizes the student's beliefs, Lucas said. "When providing feedback to students that may have poor or misguided arguments, it is important the teacher uses language that helps the student understand that your feedback is to help them defend their position better and is not a personal attack."
IMAGE: Michael Jung/Shutterstock
Like The College Fix on Facebook / Follow us on Twitter