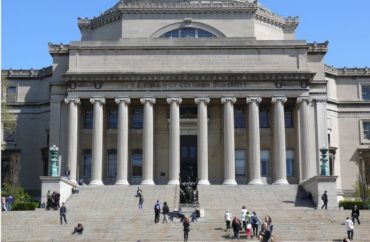 As calls to "cancel" student debt continue unabated, the Wall Street Journal recently ran an investigative piece looking at schools who are baiting students into taking on hundreds of thousands of dollars' worth of loans by promising them payoffs that never happen.
The WSJ targeted Columbia University, which has issued "thousands of master's degrees that don't provide graduates enough early career earnings to begin paying down their federal student loans," according to the story:
Lured by the aura of degrees from top-flight institutions, many master's students at universities across the U.S. took on debt beyond what their pay would support, the Journal analysis of federal data on borrowers found. At Columbia, such students graduated from programs including history, social work and architecture.
Specifically, the WSJ looked at Columbia University's film studies graduate department, and the students that ended up with loans they could never repay:
"As a poor kid and a high-school dropout, there was an attraction to getting an Ivy League master's degree," said Mr. Clement, 41. He graduated in 2020 from Columbia, borrowing more than $360,000 in federal loans for the degree. He is casting for an independent film, he said. To pay the bills, he teaches film at a community college and runs an antique shop.

Columbia grad students who borrowed money typically held loans that exceeded annual earnings two years after graduation in 14 of the school's 32 master's degree programs tracked by the Education Department, the Journal found. In about a dozen Columbia master's programs, the majority of recent graduates weren't repaying the principal on their loans or took forbearance, according to data released for the first time this year.
According to data reviewed by the paper, Columbia film program graduates who took out federal student loans had a median debt of $181,000. Meanwhile, Columbia has an endowment of $11.3 billion.
The story goes on to note that schools have been able to increase tuition exponentially because of general federal loan programs, some of which have no limits on how much graduate students can borrow:
Highly selective universities have benefited from free-flowing federal loan money, and with demand for spots far exceeding supply, the schools have been able to raise tuition largely unchecked. The power of legacy branding lets prestigious universities say, in effect, that their degrees are worth whatever they charge…

Julie Kornfeld, Columbia's vice provost for academic programs, said master's degrees "can and should be a revenue source" subsidizing other parts of the university. She also said grad students need more financial support."
Read the full story here.
MORE: As Biden taps Elizabeth Warren ally to oversee student loans, debate over canceling debt looms large
IMAGE: Ad Meskens/Wikimedia Commons
Like The College Fix on Facebook / Follow us on Twitter