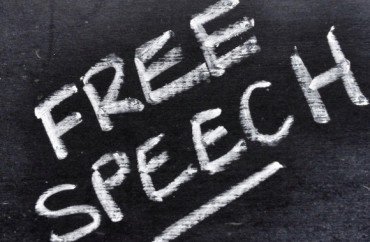 Former College Fix student reporter Graham Piro recently got a chance to see the new documentary about campus free speech (or lack thereof) titled No Safe Spaces, starring Dennis Prager and Adam Carolla.
Writing in The Washington Free Beacon, Piro notes the film features individuals from across the political spectrum (like Van Jones and Dave Rubin) to highlight the dangers to free expression at the modern academy. Several of the main subjects should immediately be recognized by readers of The Fix: Evergreen State College's Bret Weinstein, Yale's Erika and Nicholas Christakis, and UC Berkeley student Isabella Chow.
"I tell people that if you give to your alma mater, if you give $1 million, you have not merely wasted money […] you are harming society" Prager said during a post-film screening Q&A in Washington DC.
"If you flush the million dollars down the toilet, you would be wasting a million dollars, but you would not be harming society."
Prager also ripped tech companies for encroaching on free speech. He mentioned his lawsuit against YouTube for restricting certain videos on his "Prager University" page. He expressed confidence in the lawsuit's success, despite a series of setbacks. He also mentioned a leaked email from inside of the streaming giant's parent company, Google. An employee refers to Peterson, conservative pundit and Daily Wire editor in chief Ben Shapiro, and Prager University as Nazis, according to the message.

"What they've done on the Left, among other horrible things, is they have cheapened all evil. Nazi means nothing anymore. Racist means nothing anymore. All evil terms mean nothing anymore because of the Left," Prager said. …

The movie comes in the wake of a December 2018 survey from the Knight Foundation examining how free speech views among high school students have changed over the past 15 years. The report found that students who took a class on the First Amendment were more supportive of free speech rights than students who did not.
No Safe Spaces opens nationally on December 6.
IMAGE: Shutterstock.com
Like The College Fix on Facebook / Follow us on Twitter