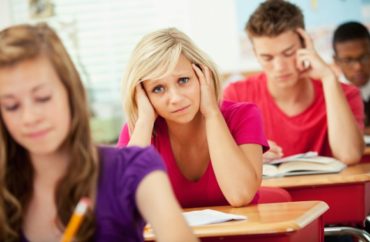 Is boredom the answer to the Leftist narrative that is plaguing first our schools and then our nation?
George Will argues, in his latest column for the Washington Post, that it could be:
Because today's dogmas are amplified by ubiquitous media, their life spans from birth to boring can perhaps be compressed into a few years rather than generations. Tedium is the result when the nation is hectored by shrill claims that something (formerly, capitalism and the class struggle; today, "systemic racism") explains why everything is dreadful. The bores, tuned out by their intended audience, might become akin to audible wallpaper — there, but no longer noticed. Bores will, however, always have the consolation of tenure.
He began his argument, headlined "When will all of the shrill nonsense stop? Perhaps when people are bored enough," by citing a parade of examples of indoctrination, bias, reverse racism and stupidity in higher education, then added: "What starts on campus does not stay there."
Will cited College Fix reporting in his piece as well, noting:
Rutgers University's chancellor and provost, who are weathervanes in human form, lack the courage of their convictions, which they also lack. First, on May 26, they announced themselves "saddened" and "greatly concerned" about recent anti-Semitic violence. Soon, however, they crouched into the academic bureaucrat's gush-and-grovel mode because Rutgers's Students for Justice in Palestine objected. The two officials promptly agreed that their first statement, by failing to "communicate support for our Palestinian community," did not serve the university's "beloved community" as "a place where all identities can feel validated." Rutgers's president then denied that their second statement was an apology. It was headlined "An Apology."

This episode, illustrating academia's familiar compound of vanity, mendacity and cowardice, was not startling. It followed the University of California Press, which was displeased with Israel's response to Hamas's rockets, proclaiming "Solidarity and Support for Palestinians in their Fight for Liberation." And a Brandeis University dean, who is White, notifying the world, which had not sought her opinion, that "all White people are racist."

In California, indoctrinators posing as educators say that insisting on "getting the right answer" perpetuates the fiction of "objectivity" and "white supremacy culture in the mathematics classroom." The U.S. Education Department urges school districts to use some of the $200 billion covid-19 relief funds for "antiracist therapy for White educators." A Madison, Wis., high school invites parents to participate in a segregated discussion of "police brutality and violence," one Zoom link for White parents, one for "Parents of Color."
Read his entire piece at the Washington Post to decide if he makes a good enough argument that boredom is the solution to the rot in higher education and our nation.
MORE: Activists protest George Will's commencement address at Princeton
IMAGE: Locke Photography / Shutterstock
Like The College Fix on Facebook / Follow us on Twitter