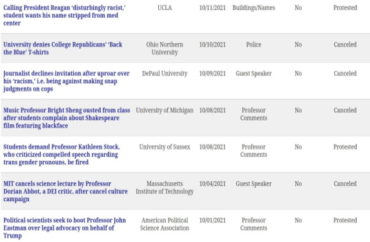 The College Fix editor Jennifer Kabbany discusses the new Campus Cancel Culture Database with The Daily Signal podcast:
"If you want to know the truth, if you want to know how America really used to be … come to the database and we'll list everything that used to be there," Kabbany said.
The database serves as a one-stop shop to monitor, chronicle — and remember — the effect of cancel culture on higher education. It seeks to document every example of targeting and suppression in an age of censorship, memory-holing, and soft totalitarianism.
Click here to check out the database.
Like The College Fix on Facebook / Follow us on Twitter