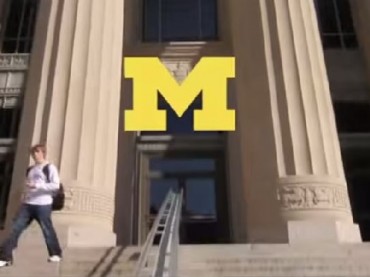 University of Michigan's Diversity, Equity and Inclusion administrative staff has quadrupled since 2002, and their increased presence has harmed free speech and faculty-student relations without measurably improving student satisfaction or enrolling a higher percentage of Black students.
The situation is spelled out in a February 7 article in National Review by Ryan Mills and Isaac Schorr.
"Over the last decade," they wrote, "U-M's leaders have intentionally cultivated one of the nation's largest university DEI infrastructures — an effort they say is vitally important 'to ensure the university's excellence into the future,' but that critics say has created a campus climate that too often stifles debate and stunts creativity."
"Students and faculty who spoke to National Review described a campus culture where people fear that committing even a minor slipup deemed insensitive by someone, somewhere, could put them in the crosshairs of DEI bureaucrats."
The Heritage Foundation's "Diversity University" report, released last summer, found that of 65 universities profiled, the University of Michigan had "by far the largest" number of staff whose jobs are creating and advancing DEI initiatives.
National Review's own analysis found that the public university had at least 167 staff "whose primary role is propagating DEI" in 2021, compared to approximately 40 on campus in 2002.
The combined salary payout for all University of Michigan DEI staff multiplied more than seven-fold in the past two decades, from at least $2.1 million in 2002 to more than $14.3 million in 2021.
Mills and Schorr relate a representative incident in which DEI staff at the University of Michigan intensified and formalized an interpersonal dispute, rather than resolving it.
A student in the university's chapter of Student Veterans of America made a crude joke about another female member, who petitioned the university's Office of New Student Programs, one branch of the DEI bureaucracy. The office filed a formal complaint against the group alleging discrimination against women, among other offenses.
Thus followed a months-long affair that included a trial with witnesses and "exacerbated, rather than resolved, the underlying issues at hand" said Joe Jackowski, a former member of the student group. The group leaders "struggled emotionally and academically," and they had greater difficulty securing funds, the authors stated.
"The massive U-M DEI apparatus…incentivizes students to turn to the power of the bureaucracy to solve even minor conflicts with their peers or their professors, and creates odd power dynamics that govern those conflicts," said Jackowski.
Faculty interviewed by National Review also cited harms caused by the DEI bureaucracy, including "a student body that is increasingly sensitive to the smallest perceived microaggression" that has "made it harder to do [the professors'] jobs," Mills and Schorr reported:
One of the core issues with the DEI "machinery" is that it begins with "this orientation that says, 'well if a student's feelings are offended, that's the biggest problem you could have,'" said [a University of Michigan] faculty member, who spoke on condition of anonymity for fear of retaliation…

In one example, a student took issue with an anodyne line in the instructor's syllabus acknowledging his age and encouraging students to come to him with any concerns should he say anything out of touch in class; the aggrieved pupil misinterpreted it as a preemptive excuse. Approached by the student, the faculty member — true to his word — offered to rewrite the line collaboratively. Instead, the student opted to send a furious email to the professor and file an official complaint with the university's Office of Institutional Equity (OIE).

The faculty member was urged by the OIE representative to direct students to report him to the OIE directly, rather than addressing the professor personally. "He was literally suggesting I encourage them to report me. It took my breath away," said the faculty member…

Other professors, he said, have been referred to the OIE for crimes such as suggesting they have a "quick powwow" with students or referring to excuses as "lame." Some students, suggested the faculty member, "call the police first for every little thing. And there's no longer any charity, no longer any goodwill and no longer the presumption of good intent." That tendency, he argued, combines with a DEI-focused administration "constituted on the premise that a problem exists and must be rooted out. And so every time they look, of course, they're going to find it."
In addition to chilling relations and complicating conflict between students and faculty, and between fellow students, Mills and Schorr write that the DEI administrative expansion has not measurably improved student welfare or achieved a key enrollment goal – the recruitment of more Black students.
According to a 2016 campus climate survey, approximately 72 percent of students reported that they were satisfied with their school, but the percentage was smaller among women, LGBTQ students, and minorities, Mills and Schor stated.
Even more, the Black student enrollment as a percentage of the whole student body has gone down in the past five years, Mills and Schorr reported.
The university's own Diversity, Equity and Inclusion Year Five Progress Report report touts the development of new workshops, programming and staff but includes little information about actual improved racial or ethnic diversity, student satisfaction data, or trends on bias or harassment reporting.
"Tripling or quadrupling your DEI staff doesn't make things three or four times better," said Greene, the author of the Heritage Foundation report. What it does is it allows ambitious, career-oriented administrators to satisfy a pressure group and rise in their status and pay in the academic administration world, and it also allows . . . the pressure groups to have a larger army of activists for their cause."
Read the whole story at National Review.
Like The College Fix on Facebook / Follow us on Twitter