University of Michigan alum and former College Fix student reporter Omar Mahmood is no stranger to controversy for being a journalist.
In 2014, when he penned a satirical column in the Michigan Review that mocked the left, he was accused of creating a "hostile environment" and was suspended by the mainstream campus newspaper, the Michigan Daily.
Mahmood, an open critic of social justice warriors, continued to be a favored target of the left on campus when, later that year, his dorm room door was vandalized with messages that labeled him a "dick" and "scum" and included an image of the devil, as well as eggs, gum and hot dogs.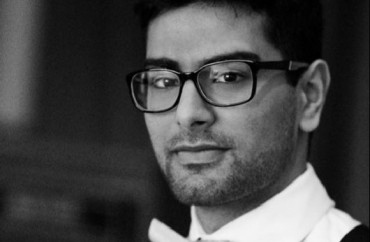 But none of that intimidated or silenced Mahmood (pictured), as evidenced by his latest piece in USA Today, where he serves as a Collegiate Network journalism fellow.
Moved by the recent brutal murder of a 23-year-old journalism student at a university in Pakistan for allegedly making fun of the prophet Mohammed, Mahmood notes "a mob killed a journalism student because he didn't believe. That could have been me."
The April 21 opinion column, titled "Islam needs Islamophobia right now," goes on to detail Mahmood's upbringing in the Islamic traditions and his eventual rejection of those teachings, taking issue with the fact that "Mohammed sanctioned sexual slavery, encouraged his followers to kill anyone found committing homosexual acts, and prophesied a climactic battle between Jews and Muslims in which the Jews would be exterminated. Of women, he said: 'Is not the witness of a woman equal to the witness of half a man? … This is the deficiency in her intellect.'"
Mahmood, a self-described atheist and apostate from Islam, takes issue with the fact that "more than 40 people in 2015 were on death row or serving life sentences for blasphemy in Pakistan, more than anywhere else in the world."
Relentless in his honesty, Mahmood asserts "Islam is in crisis."
"Our religion's association with terrorism is the most unnerving product of this crisis. When a suicide bomber blows himself up or a jihadist plows a truck through a crowd, or a mob murders someone for blasphemy, the standard response is to deny that it has anything to do with Islam, and to ring the #Islamophobia alarm bells," he writes. "But it is dishonest to blame everything from gun laws to climate change as cause for terrorism, all so we can avoid opening the book on Islam."
In the end, it is the brutal murder-by-mob of an enraged group of Islamic extremists that moved Mahmood to pen such a dangerous piece for a national news outlet, outing himself in an extreme and public way as a critic of Islam — something that could very well prompt a fatwa against him:
Mashal's death is a reminder to us in the West how precious our freedom of speech is. But even in America, I have lost some of my closest friends for criticizing the prophet's edicts on homosexuality at the University of Michigan. And although we are far away from lynching a student for criticizing Islam, our college campuses are perhaps the last place one can hear honest criticism of Islam. It has been said that Islamophobia is "a word created by fascists, and used by cowards, to manipulate morons." It is hard not to see reason for this definition nowadays. A political double standard has made Islam a hallowed victim — criticizing this religion, maybe even suggesting that Mashal's lynching had anything to do with Islam, will get you labeled an Islamophobe.
Please read — and share — the full column.
Like The College Fix on Facebook / Follow us on Twitter