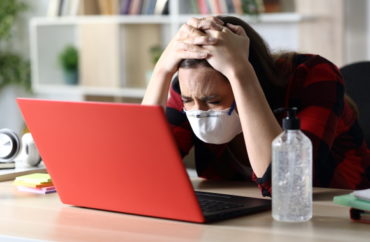 The Wall Street Journal opinion section yesterday featured four students weighing in on how universities should address COVID and the new Omicron variant. Two of the "Future View" respondents are College Fix contributors.
"It's time to end the Covid hysteria," Ashley Carnahan said.
"The Omicron variant should not be shutting down schools again," Carnahan said. "It's time for students to stay in school and learn to live with the virus."
She noted the low risk of COVID to most college students.
Carnahan wrote:
The Omicron variant is less lethal than previous variants and mirrors most symptoms of the seasonal flu. According to the Centers for Disease Control and Prevention, 5,034 people 18 to 29 have died from Covid. With nearly 10 million cases having been reported from that age group, the mortality rate for young adults is less than 0.1%.
College Fix reporter Sophia Corso shared similar sentiments.
"With the second anniversary of the pandemic approaching, we should ask universities what it will take for us to go back to normal," Corso said.
"It seems right now that Covid is not going to disappear, so does that mean that in 10 years students will still be wearing masks when they go to school? Or will we finally let the individuals consider the risks of Covid and make their own decisions?" she asked.
IMAGE: Pheelings Media/Shutterstock
Like The College Fix on Facebook / Follow us on Twitter