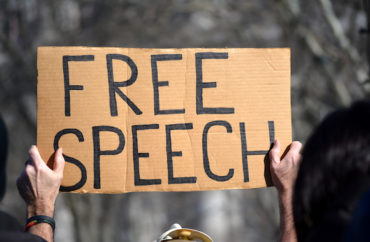 Kansas State University has come in No. 1 among public universities as best for free speech — and second only to the private University of Chicago — out of 55 colleges and universities surveyed in newly released 2020 College Free Speech Rankings.
The results are based on a survey of nearly 20,000 students attending 55 different colleges and universities nationwide. Their answers were used by the Foundation for Individual Rights in Education and RealClearEducation to create a lengthy list of the best and worse colleges for free speech.
The database is titled the "2020 College Free Speech Rankings."
Among the survey's key findings, seven of the colleges that ranked in the top 10 best for free speech are large public state universities.
As for Kansas State, Donovan Newkirk reports for RealClearEducation that the taxpayer-funded university received an overall score of 57.3 out of 100 in the College Free Speech Rankings.
The piece offers several anecdotes to illustrate how the university supports free speech, including detailing a controversial incident that happened over the summer:
On June 26, one month after [George] Floyd's death, Kansas State student Jaden McNeil tweeted, "Congratulations to George Floyd on being drug free for an entire month!" (The medical examiner's autopsy showed three different drugs in Floyd's system at the time of his death – fentanyl, methamphetamine and cannabinoids.)

The tweet created an uproar in the K-State community, with students demanding McNeil's expulsion for what President Richard Myers called his "insensitive" tweet.

Speaking in the name of "Black student athletes" at the university, women's basketball team member Christianna Carr tweeted that the team would longer "play or participate in any donor or recruiting events." The university must deliver "strong consequences" against McNeil and adopt a policy "that will expel any student that openly displays racism" in any manner, the statement said.

The university did not yield to the athletes' demands. In his June 29 message to the K-State community, President Myers alluded to the oath he had taken when joining the United States Air Force to "support and defend our Constitution, including the freedom of expression."

"Democracy is a messy system devised by humans who all have imperfections. Many times, the answers or decisions we have to live with are also imperfect," Myers wrote.

In a statement two days later, he said: "There have been many calls for us to expel a student who posted racist messages on social media, and while these messages are disrespectful and abhorrent, we cannot violate the law."
Read the full piece at RealClearEducation.
Like The College Fix on Facebook / Follow us on Twitter