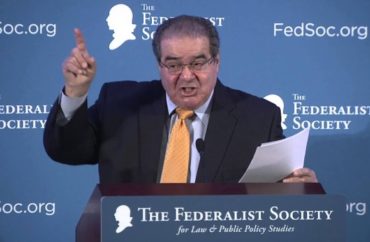 Politico botched fact-check of anti-Federalist Society essay
Last month Politico published an ignorant essay that accused the Federalist Society of being an "advocacy organization" based on a 35-year-old grant proposal that was never put into practice.
The aim of the article, by a political science professor and Ph.D. student who do not teach law, was to prevent federal judges from "participating in conferences and seminars" hosted by the legal organization, whose members are largely conservative and libertarian.
The entire premise of the essay that Politico chose to publish is bunk, and its recommendation would actually further entrench the overwhelming leftism of law school faculty, according to a high-profile lawyer whose credentials are unimpeachable.
Theodore Olson, whose lawyering convinced the Supreme Court to enshrine a right to same-sex marriage, writes in a Politico rebuttal that the "advocacy organization" described by the political science scholars is actually the American Bar Association:
Which of the following is an advocacy organization? One that lobbies Congress and state legislatures for legislative change, brings lawsuits and files amicus briefs? Or one that does none of these things and puts on programs designed to educate the public about legal questions, both controversial and simply interesting? Almost everyone would say the first. That is the American Bar Association. And almost no one would say the second. That is the Federalist Society.
The former solicitor general has long been involved with both – he's on the society's Board of Visitors – but the Federalist Society has never "filed a lawsuit or brief in any litigation" nor "passed any resolution advocating for or against any legal issue."
If judges are banned from participating in Federalist Society events, that leaves ABA-accredited law school faculties with a practical monopoly on promoting their overwhelmingly leftist legal theories, Olson writes:
Studies consistently show that somewhere between 75 and 85 percent of law professors are liberal, with only 15 percent or so even moderately conservative. This is even more true of top law schools. About 90 percent of the faculty at top schools who donate to candidates donate to liberal politicians—more than 95 percent at Yale, the top-ranked law school.
And unlike those law faculty, the Federalist Society "goes out of its way to include people with different perspectives in its programs," he continues, casting doubt on the fact-checking performed by Politico before running the first essay:
[Authors Amanda] Hollis-Brusky and [Calvin] TerBeek claim that "from 1982 to 2011, nearly every presenter, moderator and panelist at the society's national conventions for students and lawyers—its two biggest annual events—would identify as right of center politically, not just ideologically." But, by the Federalist Society's count, at least 35 percent to 40 percent of the speakers, panelists and moderators at those events would not identify as right of center. Participants have included not only Elena Kagan (when she was still dean of Harvard Law School) and every other sitting Democratic appointee to the Supreme Court at some point in their careers, but also strong progressives like then-University of Pennsylvania professor Elizabeth Warren and former NAACP Legal Defense & Education Fund president Ted Shaw.
What these political science scholars are advocating is really unchallenged ABA supremacy in the education of federal judges:
Such a rule would not protect the judiciary's reputation for impartiality; rather, it would have the opposite effect. It would forbid members of the federal judiciary from exposing themselves to views about the law outside the left-liberal thinking that continues to dominate much of the legal establishment.
IMAGE: The Federalist Society/YouTube
Like The College Fix on Facebook / Follow us on Twitter