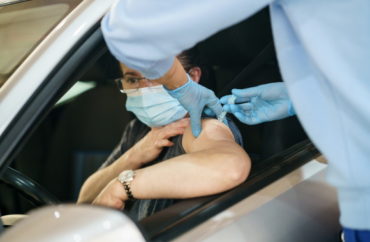 'By choosing to mandate experimental Covid-19 vaccines, LAUSD is forcing employees to choose between providing for their families and being the victim of human experimentation'
Bethany Blankley | The Center Square
California Educators for Medical Freedom, with assistance from the Health Freedom Defense Fund, has sued the Los Angeles Unified School District over its mandatory vaccine policy and digital tracking system.
Both violate federal law and basic human rights, the plaintiffs argue.
The second-largest school district in the U.S. is mandating that its employees be vaccinated as a condition of employment. The lawsuit claims the mandate is not only unconstitutional, but it is unethical and violates the most fundamental human rights laws.
The COVID-19 vaccines were made possible through a federal Emergency Use Authorization initially issued under the direction of former President Donald Trump and renewed under President Joe Biden. No COVID-19 vaccines have been licensed or approved by FDA. Through emergency use authorization, medical products like vaccines are referred to as "investigational." Prior to receiving the shot, recipients are required to be informed that the drug is experimental and be given "the option to accept or refuse administration of the product."
Unlike traditional vaccines that inject part of a virus into the body to force the body to create an antibody, the Pfizer and Moderna shots inject genetic technology to alter the body's approach to creating an antibody. The shots are not vaccines according to the CDC's definition of a vaccine, numerous doctors have pointed out, including Dr. Steven Hotze, in Houston, who has sued Gov. Greg Abbott over several emergency orders related to the coronavirus. The injections being pushed out by public officials and healthcare providers are new, genetic engineering technology, which have never been introduced to the public and involve injecting a genetic sequence, a messenger RNA (mRNA), into the body. The mRNA prompts the body to manufacture a spike protein believed to be on the surface of Sars-CoV-2 that is supposed to cause the body to create an antibody response.
None of the pharmaceutical companies that have manufactured the drugs have provided any evidence of their short, medium, or long-term effects over any period of time, critics, including the Health Freedom Defense Fund, argue. It is also unknown how long the body's response to creating antibodies will continue, where the spike proteins will migrate, how long they will continue to be produced, or which organs they would impact, the Health Freedom Defense Fund points out.
"Since implementation of the Nuremberg Code, free nations have recognized that forced medical experimentation of any kind is both inhumane and unethical," the fund states in a news release. The internationally recognized human right against medical experimentation was ratified by the 1964 Declaration of Helsinki and is protected by U.S. federal code. In 2005, the General Conference of UNESCO adopted the Universal Declaration on Bioethics and Human Rights to require free and informed consent for participation in medical research-oriented drug therapies.
"There can be no doubt these treaties and regulations reaffirm the basic human right to bodily autonomy and the right to voluntary informed consent," the plaintiffs argue.
"By choosing to mandate experimental Covid-19 vaccines, LAUSD is forcing employees to choose between providing for their families and being the victim of human experimentation. Forced vaccination is not only unethical, it violates the tenets fundamental to a free society and must stop," the HFDF argues. "There is no pandemic exception to the law or the Constitution."
Their complaint states that the FDA can only authorize emergency use medicines through federal code, which requires informed consent and the right to refuse receiving the experimental drug. Also, emergency use authorization is not permanent. The current injections can only be administered legally for the duration of the emergency authorization.
The FDA published several fact sheets related to COVID-19 vaccines including instructions to providers, Fact Sheet for Health Care Providers and Fact Sheet for Recipients and Caregivers, both of which require informed consent and the option to refuse administration of the drug.
According to the complaint, LAUSD employees began receiving communication last month from Superintendent Austin Beutner and others instructing them to make appointments to get vaccinated.
On March 4, employees received guidance from LAUSD, saying, "The Moderna vaccine is currently being administered by Los Angeles Unified nurses and other licensed healthcare professionals to Los Angeles Unified employees. You will schedule your appointment […]. You will provide proof of vaccination via the DailyPass for time reporting purposes."
The LAUSD also launched Daily Pass, an app "designed to coordinate health checks, COVID tests and vaccinations for a safe reopening of schools."
"Sort of like the golden ticket in 'Willy Wonka,' everyone with this pass can easily get into a school building," Beutner said during his weekly update on Feb. 22.
The technology, which was developed with support from Microsoft, generates a QR code for each student and staff member allowing them entry to a specific LAUSD location for one day only, as long as the individual receives a negative test result for COVID, shows no symptoms and has a temperature under 100 degrees.
"Since last June, our teams have been collaborating closely with Los Angeles Unified to support running schools remotely," Microsoft's corporate vice president of Windows product and education, Eran Meggido, told Fox Business.
Once an individual arrives on campus, their QR code is scanned by a LAUSD site leader who also takes the individual's temperature.
The Daily Pass will be used to register and schedule appointments, track vaccines in stock, perform check-in and data capture at time of appointment, sort high-risk individuals, offer waitlists to low-risk individuals and dashboards to view data, among other features.
LAUSD is the first school district to announce it is requiring every student and employee to have a Daily Pass in order to receive education in a taxpayer-funded public school system. All LAUSD employees and students 13 years and older, their family members, using computers and mobile devices, will be required to use it.
Anonymized data will be shared with public health officials, research and health care collaborators – Stanford University, UCLA, The Johns Hopkins University, Anthem Blue Cross, and Healthnet and Cedars Sinai.
In December 2020, Children's Health Defense published "Vaccine Mandates: An Erosion of Civil Rights?" which surveys the history of vaccine mandates in the U.S. and provides information to help Americans understand their constitutional rights.
Originally published March 23, 2021, by The Center Square
IMAGE: Javi Indy / Shutterstock
Like The College Fix on Facebook / Follow us on Twitter