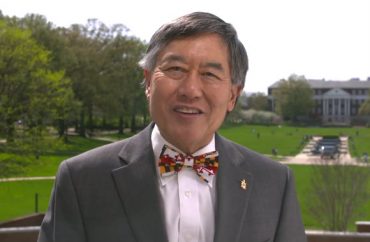 Top leaders at UMaryland accused of meddling in football program
The University of Maryland at College Park is at risk of losing its accreditation after receiving a warning from the Middle States Commission on Higher Education, the university's accreditor.
The commission's warning gives the university two years to become compliant with their standards before losing accreditation due to "insufficient evidence that the institution is currently in compliance with Standard VII (Governance, Leadership, and Administration)."
ESPN senior writer Heather Dinich reported Sunday that the possible non-compliance resulted from the University System of Maryland Board of Regents attempting to "make personnel decisions regarding former coach DJ Durkin and university president Wallace D. Loh."
ESPN reported that the board held a press conference in October 2018 where they recommended that the school retain Durkin as head coach after the board took control of an investigation that "examined the culture of the football program."
The day after the press conference, Loh (pictured) announced his retirement, and Durkin was fired the following day, leading to the resignation of board president James Brady.
According to ESPN, his replacement Linda Gooden said "the decision to recommend the retention of Durkin was a mistake," but she defended the board's right to make it.
A university spokesperson told ESPN that the school is already working to compliance and said the "renewed commitment to openness and communication will ensure that the necessary actions are taken to secure autonomy and full compliance."
In a letter to the university network, Loh said that the school expects to be in full compliance by the March 2020 deadline of the monitoring report to the accreditation organization.
IMAGE: YouTube screenshot
Like The College Fix on Facebook / Follow us on Twitter