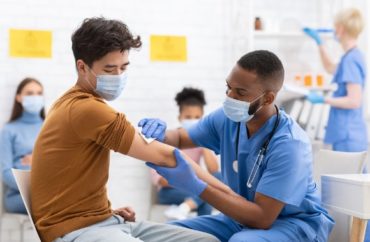 A pair of medical school professors have warned that "vaccine passports" could make lockdowns worse.
"It sounds like a way of easing coercive lockdown restrictions, but it's the opposite," Harvard University Professor Martin Kulldorf and Stanford University Professor Jay Bhattacharya said recently in The Wall Street Journal.
They said:
To see why, consider dining. Restaurants in most parts of the U.S. have already reopened, at limited capacity in some places. A vaccine passport would prohibit entry by potential customers who haven't received their shots. It would restrict the freedom even of those who have: If you're vaccinated but your spouse isn't, forget about dining out as a couple.

Planes and trains, which have continued to operate throughout the pandemic, would suddenly be off-limits to the unvaccinated. The only places where restrictions would be relatively eased would be those still fully locked down, such as many live-event venues and schools. Yet even there, the passport idea depends on keeping the underlying restrictions in place—giving officials an incentive to do so for much longer as leverage to overcome vaccine resistance.
The pair said that the passports would not ease lockdowns, but instead should be seen as a "coercive scheme to encourage vaccination."
"Covid vaccine passports would harm, not benefit, public health," Kulldorff and Bhattacharya said.
Many people have already lost trust in public health and political leaders. "Coercive vaccination policies would erode trust even further," the opinion piece said. "Even well-informed people may legitimately wonder: Why are they forcing me to take this shot if it's so good for me?"
Furthermore, the passports would benefit wealthier, well-educated workers over poorer workers.
"Passports would entice young, low-risk professionals, in the West and the developing world, to get the vaccine before older, higher-risk but less affluent members of society," the medical school professors said. "Many unnecessary deaths would result."
IMAGE: Prostock Studio/Shutterstock
Like The College Fix on Facebook / Follow us on Twitter