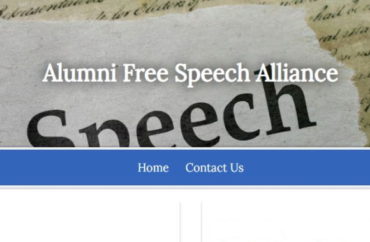 A new nationwide alumni group has formed that seeks to offer strength in numbers and a willingness to take on what some embattled students, professors and trustees cannot.
The Alumni Free Speech Alliance announced its formation in a Wall Street Journal op-ed today.
The group will connect like-minded alumni groups to defend free speech, academic freedom and viewpoint diversity on college campuses.
From the op-ed:
AFSA's member groups are nonpartisan and will protect the rights of faculty and students across the ideological spectrum. The groups will pool ideas and information as well as promote and mentor similar groups of alumni from other schools. Our goal is to ally with scores of as-yet-unformed alumni groups around the country.

Why alumni? Because with rare exceptions, everyone else may feel too exposed to attacks to take a stand against campus culture. … Champions of free speech among faculty are badly outnumbered, even as many left-of-center professors are starting to realize that they too can be brutally canceled by the mob. Those few students and faculty who speak up often feel isolated and exposed.

University trustees, presidents and other administrators are also usually mired in the toxic campus environment, which responds to heresy with attacks. Most have either been cowed by or genuinely believe in a woke orthodoxy that sees free speech as an inconvenient disruption.

That leaves alumni as the only university stakeholders with the numbers and clout to lead the defense of free speech, academic freedom and viewpoint diversity in campus environments. Free speech and academic freedom are fundamental to the advancement of knowledge and to the success of our colleges and universities.
The five founding members of the alumni group are the Cornell Free Speech Alliance, the Davidsonians for Freedom of Thought & Discourse, Princetonians for Free Speech, University of Virginia's Jefferson Council and Washington & Lee's Generals Redoubt.
Read the group's op-ed in The Wall Street Journal and click here to access its website.
ALERT: Check out our new Campus Cancel Culture Database!
IMAGE: screenshot
Like The College Fix on Facebook / Follow us on Twitter