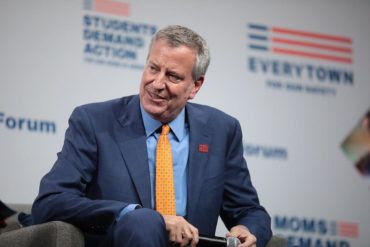 A public school parent in New York City recently criticized Mayor Bill de Blasio for his leadership on reopening schools in the city.
Grace Rauh, a public school parent and a former political reporter in the city for NY1.com, said de Blasio "failed" New York students and families in a September 19 essay in The Atlantic. Rauh has known de Blasio since 2007 and covered his mayoral victory in 2013.
The city has twice delayed the reopening of public schools.
She explained what the mayor should have done:
He could have spent the summer months convincing the stakeholders that staggered schedules—with some kids learning at home each day—smaller classes, and improvements to air-circulation systems, along with commonsense precautions such as masks and frequent hand-washing, would be sufficient for an on-time start. He could then have worked with the Department of Education to make sure that these precautions were in place and that teachers knew what to expect.

Alternatively, he could have decided weeks, if not months, ago to start the school year completely remote and announced that the city would gradually move toward in-person learning if conditions allowed for it.
But this is not what he did.
"He set deadlines that he refused to put in the work to meet, sowing chaos and ongoing frustration for families and teachers alike," Rauh wrote. She said "De Blasio has failed our kids and is teaching them a lesson about political leadership that I hope they never forget."
She criticized the New York City mayor for his handling in June of a video which purportedly showed police brutality and for working out in a gym after he forbade residents from doing the same.
Rauh leveled more criticism at de Blasio, writing, "de Blasio doesn't know how to lead New York City. Even worse, he doesn't seem to care." She praised de Blasio for expanding access to kindergarten, but faulted him for losing focus, including spending time running for president while ignoring constituents.
"There could not be a more important moment for capable and inspiring leadership from City Hall. Our city has been through hell. Yet he's proven time and again that he's not up to the task required," Rauh said.
Rauh told her children, "they are going to get a real education this fall," but "[i]t just won't be the usual school curriculum."
"Instead, they are being taught a powerful lesson about the crucial importance of voting and having a strong, effective leader at City Hall."
IMAGE: Gage Skidmore / Wikimedia Commons
Like The College Fix on Facebook / Follow us on Twitter