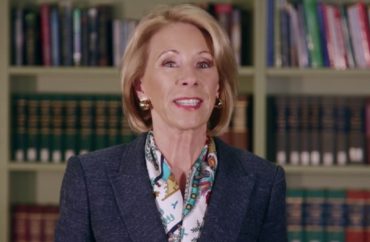 Is it really this hard to correctly attribute someone's public statement in a press conference?
Education Secretary Betsy DeVos* was the target of negligent and unfounded claims about her supposed comments on school reopenings over the weekend. USA Today corrects the record in a fact check published Tuesday night.
It called out false claims published across Facebook, Twitter and Instagram that DeVos said "only" 0.02 percent of schoolchildren would die in school reopenings this fall due to COVID-19:
Some attributed it to a press conference, and most of the posts calculated that 0.02% of schoolchildren would equate to 14,740 fatalities.

There is no record of such a comment from DeVos in her numerous public appearances and interviews in the last week.
USA Today notes the math isn't even right: 0.02 percent would mean 11,320 fatalities.
Aside from that, DeVos's public appearances actually emphasize that schools can safely reopen. For example, she told Fox News Sunday that "nothing in the data … suggests that kids being in school is in any way dangerous," either in America or from the many countries that have already reopened schools. (America is actually a laggard in reopening.)
The only numerical figure provided by a Trump administration official is about Americans under 25 as a whole. White House Coronavirus Response Coordinator Deborah Birx said that large group's fatality rate from COVID-19 is under 0.1 percent.
"Even with an accurate mortality rate, though, it'd be impossible to say how many fatalities will occur if all 56.6 million American schoolchildren return to their classrooms in the fall," USA Today notes.
A spokesperson for the Department of Education called the claim a "total lie."
Some of the largest school districts in the country are choosing to harm their children, families and taxpayers by refusing to reopen this fall, citing negligible risks from COVID-19. They include the Los Angeles Unified School District and San Diego Unified School District.
IMAGE: U.S. Department of Education/YouTube
Like The College Fix on Facebook / Follow us on Twitter