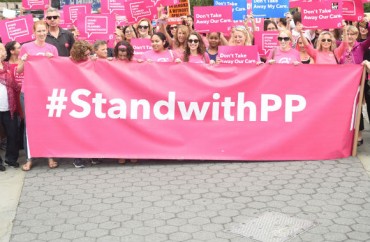 North Dakota's Republican governor has vetoed a portion of a budget bill that would have prevented public universities from collaborating with Planned Parenthood and other abortion vendors.
"Section 5 threatens a $2,800,000 penalty on each of our institutions of higher education that is void of due process and egregious in its amount, threatens mandatory criminal charges for state employees, and may be in direct conflict with House Bill 1503," Governor Doug Burgum said in his veto message, according to KX News.
His official Twitter page made no mention of any bill signings or veto messages, and they are not visible on his official governor website. The decisions and signings occurred on Friday evening. There is also not currently an announcement on the state's website.
House Bill 1503 is a campus free speech bill that Burgum signed on Friday.
The controversy over Planned Parenthood and other abortion vendors getting state education dollars started when a North Dakota State University professor teamed up with the abortion giant to develop a sex education curriculum.
State law currently prohibits abortion vendors from receiving taxpayer dollars, however the university had a workaround where a professor teamed up with Planned Parenthood as part of the research project.
IMAGE: A Katz/Shutterstock
Like The College Fix on Facebook / Follow us on Twitter