College commencement season has typically been a time for controversy and protest, but 2018 proved to be a departure from the norm.
It ended up much tamer this year than previous years, the Foundation for Individual Rights in Education's Alex Morey writes in an op-ed in USA Today. "Disinvitation season" didn't occur because universities avoided inviting controversial speakers or ones who might elicit protest, the op-ed argues.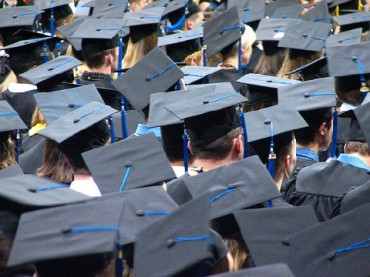 Morey explains that FIRE defines a disinvitation as "any effort to prevent an invited speaker from being heard on campus, whether by asking administrators to cancel the appearance or by so materially disrupting the event that the speaker is prevented from speaking or the audience prevented from hearing."
In 2013, there were 19 disinvitations for commencement speakers. That number decreased to five in during 2017's commencement season, and fell to just one this year.
Morey writes that this is partially because fewer politicians were invited to give commencement addresses, as well as fewer controversial speakers in general. And conservative speakers are all but disappearing, he writes.
Instead, colleges appeared to be more focused on inviting less protest-worthy figures. Major speakers included actress Mindy Kaling (who addressed Dartmouth), writer David Sedaris (Oberlin), and social justice figure Heather McGee (Vassar), among other journalists, businesspeople, scientists and Hollywood elite.
Morey concludes by writing about the University of South Carolina, which announced this past year that there would be no guest speakers at graduation, and that the commencement address would instead be given by the school's president.
MORE: Democratic students more likely than Republican students to support disinviting speakers.
 Christina Hoff Sommers says law school has not apologized for letting protesters take over her speech. 
Like The College Fix on Facebook / Follow us on Twitter