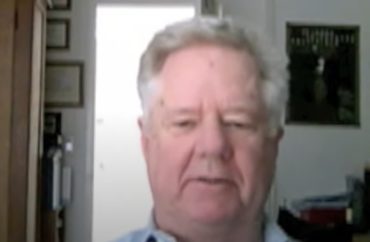 A political science professor emeritus at the University of Illinois at Urbana-Champaign warns about a new "intellectual plague" that could take over universities.
"The toxic ideas that have corrupted today's universities all began as tiny, obscure musings before escaping from the laboratories," Robert Weissberg (right) wrote in an essay for Minding the Campus. He said the next disease to worry about is the proliferation of programs in "hate studies."
"This incipient plague embraces the very essence of totalitarianism—the criminalization of thinking," Weissberg said. "Out with criminal behavior, in with thoughtcrime."
The professor mentions Bard College as one supporter of hate studies. It has a fall 2020 "Hate Studies Initiative."
Weissberg said:
This anti-hate message is already filtering into student brains through such Bard courses as Outsider Art; American Studies; Gender and Sexuality Studies; German Expressionism; Capitalism and Slavery; Contagion: on rumor, heresy, disease, and financial panic; and Women's Rights, Human Rights, among others. Bard students will almost surely learn about the evils of "hate" and ambitious, trend-sniffing academics will adjust their teaching interests accordingly.
Bard is not alone in its endeavor. "Other early investors are The Gonzaga Institute for Hate Studies, The International Network for Hate Studies, California State University at Santa Barbara Center for the Study of Hate and Extremism, and up in Canada, the Centre on Hate, Bias and Extremism located at the Ontario Institute of Technology," Weissberg said.
"Who will exorcise this hate? The Ministry of Anti-Hate," Weissberg asks. "The courts or the Stasi? Might each individual be the judge and jury and settle the matter as he sees fit?"
The political science professor said that hate studies is "an academic racket" aimed at "ambitious scholars likely frustrated in climbing up the traditional academic ladder."
"It is not especially technical, nor does it require mastering a foreign language. Entry into the field is easy, but this 'softness' should not detract from the awaiting evil," Weissberg said.
He warned about possible scrutinizing of classic works.
"Books, entire libraries, and even traditional disciples will be scrutinized for toxicity and, rest assured, costly bogus prescriptions will be written," Weissberg said. "I hate to say it, but this will not end well, so it's time to sound the alarm."
IMAGE: National Association of Scholars/YouTube
Like The College Fix on Facebook / Follow us on Twitter