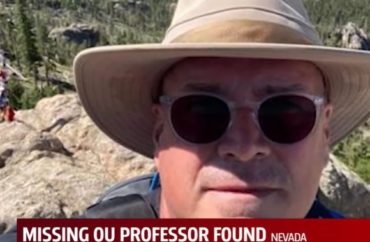 He almost didn't make it. He wrote notes to his loved ones. He came to terms with his fate.
But he never gave up, and in the end, he stumbled out of a secluded section of a Nevada mountain to a search and rescue party of his friends.
The Oklahoman has the story of University of Oklahoma Assistant Professor of Business Ron Bolen, who survived on one protein bar and little else during his ordeal in July on Boundary Peak, the highest mountain in the Silver State.
It started with an accidental fall down a slope, followed by a decision to try and pick up the trail down the mountain at a lower point. But it was the wrong call, and soon he was lost, a nightmare that lasted five days.
Bolen's attempts to build a fire failed. So did his attempts to pick up any trail. The nights were cold and felt hopeless. His cell phone was dead, but there was no signal anyway, the newspaper reported.
On day four, he came across a cattle trail that lifted his spirits, but "the path ended that night at a wilderness registry that no one had signed in eight months, leaving him in despair. That night he would fall asleep next to a stream, not expecting to survive," the Oklahoman reports.
On day five, Bolen's friends who were part of the search team "found his backpack with the goodbye notes. Their first thought was that their friend was dead. Then they saw someone walking toward them."
Bolen emerged into a clearing about 75 yards away. McConnell, Schick and Webb did not immediately recognize their friend, at first thinking this might be a person who had found his body.

He continued walking toward them then fell to his knees, not trusting what he was seeing. Bolen's friends then recognized him and rushed to hug him, all four tumbling into the sage brush.

"Everyone's bawling. I am crying like a child," Bolen said. "I kept saying, 'Are you real?' I thought I was hallucinating."
In the end, Bolen said he's learned an important lesson: he'll never go hiking alone again.
Read the full story at the Oklahoman.
Like The College Fix on Facebook / Follow us on Twitter